Gan Power, Ireland
[From left to right: Gan Power, Paolo Encarnacion, Bea Rodriguez (me), Sheryl d'Haenen, Nico d'Haenen]
A little over a year ago, I started learning the girevoy sport (GS) style jerk from Coaches Nico d'Haenen and Paolo Encarnacion in the Philippine Kettlebell Club's brand-new facility in Pasig City. (I will be featuring Philippine Kettlebell Club in another post within the year). My brother-in-law, who had recently moved from his home in Northern Ireland to be with my sister in the Philippines, was kind enough to accompany me to the facility almost everyday. So there I was, trying to learn this new kettlebell move, and there he was on the sidelines, an Irish guy working on a web development project on his computer. Next thing you know, we heard someone else come in the door — and he was speaking with an Irish accent! What are the odds? Two Irish guys in a kettlebell facility in the Philippines?
His name was Gan Power, a gym owner, kettlebell instructor and GS coach based in Tramore Co. Waterford, Ireland. He was on summer vacation and made sure to get his kettlebell workouts in. Later he started giving me pointers about the jerk. Gan, Nico and Paolo were patient with me; I couldn't get the movement down, but they encouraged me to keep trying… and I did. Eight months later, I successfully competed in the Long Cycle (clean and jerk) event. If not for them, I would not have started my journey as a kettlebell sport competitor.
It is my pleasure to feature one of the people responsible for introducing girevoy sport to my life: Gan Power, a proud member of Ireland's National Kettlebell Sport Team.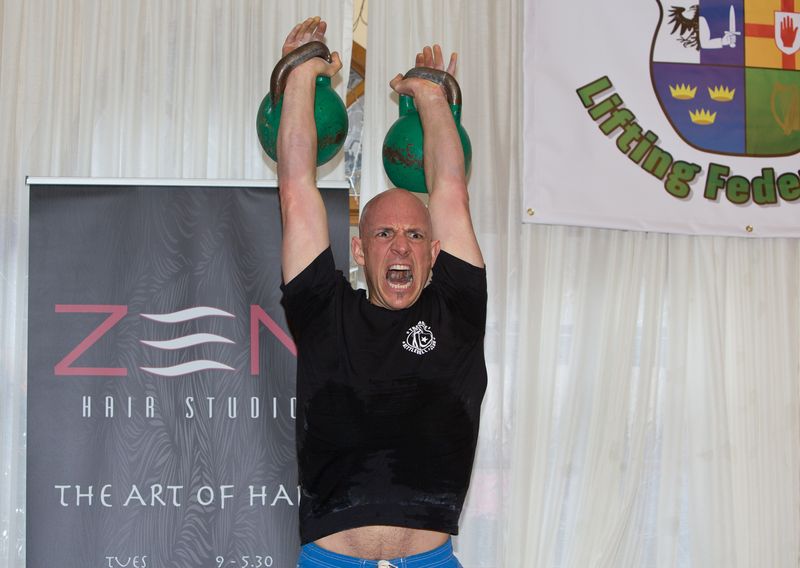 GAN POWER
Owner & Head Coach at Tactical Fitness Strength & Conditioning
Member, Ireland's National Kettlebell Sport Team
Competition Event: Biathlon
Coach: Anton Anasenko
1. How did you find out about GS/kettlebell sport?
Through a friend of mine who had attended some kettlebell competitions hosted by Kilkenny Kettlebell Club (in Kilkenny, Ireland). We travelled up and I was instantly hooked. I saw a new side to kettlebells: the challenge involved in getting on the platform and lifting for 10 minutes,  and the camaraderie among lifters, who cheered on their fellow athletes as they finished their sets. On seeing all this, I knew this was a sport I wanted to compete in.
2. Describe what it was like to step on the platform for the first time.
I was a bit apprehensive as I had only trained with two cast-iron bells and not your regular competition style bells. I wasn't too sure how they would handle, as they were differently-shaped. But as soon as the buzzer went, I just started lifting. The anxiety soon passed a few minutes into my set.
3. When did you start lifting kettlebells?
I started playing with bells around seven or eight years ago. I got bored with regular weight training routines, and found that kettlebell training gives the best bang for your buck.
4. What motivated you to become a girevik? Why do you lift?
GS represents a kind of 'best of both worlds' for developing all-around physical fitness. GS exercises cover all movement patterns, all while standing up, in an integrated fashion. This means the benefits gained from GS training will cross over very well to real-world demands. It's not a complete way of training, but it definitely ticks a lot of boxes.

5. How many competitions have you participated in?
Five or six major competitions, and a few smaller 5-minute competitions. I always look to increase my performance from previous competitions.

6. What is your athletic background?
At a young age I was into swimming and surfing, as I live minutes away from the beach. I kind of fell off the wagon for a few years but I'm back into it now. I've been training regularly now for the last 10 years, with GS, cycling, kettlebells, and any other kind of training that is challenging.
7. What is your diet like?
My diet is mainly based around paleo style, as I find it best to maintain good health. I'm able to maintain my bodyweight for competitions, and a good bodyfat percentage.

8. Can you share your favorite healthy recipe?
For breakfast I have paleo pancakes, which is made from chia seed, banana, egg whites, blueberries — cooked in coconut oil. Try it!
9. Who is your GS hero or heroine?
Anton Anasenko, who also happens to be my coach  🙂
10. What is life like outside of kettlebell sport? What are your hobbies? How do you balance these with training for the sport?
Life outside of my sport is basically chilling out with my son, catching a movie, or chilling on the beach with a coffee with my friends. Training for my sport is not really a problem, as I own and run my own gym. I always have time to train, so I'm lucky in that sense.

11. What is the most challenging aspect of being a girevik?
Technique, technique, technique!!! I'm always trying to better my technique, to increase my numbers  and increase the weight on my lifts.
12. What is the most rewarding aspect of being a girevik?
The nature of the three lifts itself requires commitment, particularly the first few times using a new weight. This makes GS a very challenging and therefore rewarding activity.
13. What is one of your greatest accomplishments in the sport? In life?
"Raid Pyrenees," a coast-to-coast cycling event which covered 710 km across 18 Cols through the French Pyrenees with 11,000 meters of ascent. This was one of the greatest challenges I ever faced, and the sense of achievement I felt when I completed it under the time was overwhelming!
The highlight of my sporting career has to be representing Ireland in the IUKL European Championships, where I managed to win a silver medal.

14. Can you share your favorite quote/motivational thought?
"Goals are the fuels in the furnace of achievement'' — Brian Tracy.
"The Iron never lies"  — I don't know who wrote this one, but I've heard it and and it's so true.
15. What is one thing about you that most people would be surprised to know?
A lot of people I meet these days find it hard to believe that I was once 95kg in weight, and can't imagine what I looked like. This inspired me to write a blog post about it on my website. (Check out his article here – very inspiring!).
16. Quick – if there is one person you would like to interview, who would it be? What question would you ask them?
Vin Diesel! 😀 I'd ask if he wants to play the role of myself in a movie about my life story (laughs). Just joking!
17. Do you have a next goal? What keeps you going?
For 2013: This November I'm competing in The World Championships in Tyumen, Siberia, and I'll be representing Ireland. For 2014, I'm thinking about getting on the bike again and cycling the famous climbs of the French Alps — the ones that cyclists climb in the Tour de France.
18. Any advice or message for the community of kettlebell sport lifters and coaches?
Get a coach; everybody needs one. Practice technique all the time, look for better ways to improve it to suit your  body type, and remember: quality reps over quantity. A lifter with good technique will always catch the eye of people as opposed to the person knocking out horrendous style reps. Keep lifting!!!
See Gan in action, snatching a 28kg this past March:
[youtube=http://www.youtube.com/watch?v=khSO9t-Lphc]
***
Have a great week!
xoxo
Kettle Bea