Meet Team USA Member Victor Culiuc, who is originally from Moldova and now lives in Deerfield, Illinois. Last year, Victor successfully represented the USA in the World Championships in Tyumen, Russia. I had the honor of watching him lift during last month's IKFF Chicago Kettlebell Classic, where he poured his heart and soul on the platform, competing in the Long Cycle event with 28kg bells. Victor looked serious and focused on the platform, but when he stopped by to get a Chicago Kettlebell Club (CKC) shirt from me after the competition, I found him to be super friendly. We look forward to seeing this great athlete at CKC to come lift with us 🙂 I enjoyed getting to know him through this interview, and I know you will, too.
Watch him lift at his next competition in New York City, on August 23rd! He will be vying for a spot in the US National Team once again. Go, Victor!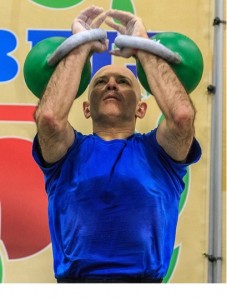 VICTOR CULIUC
Event/s: Biathlon, Long Cycle
Member, Team USA
Coach: Igor Morozov
1. How did you find out about GS/kettlebell sport?
Compared to my fellow American lifters I had more chances to start kettlebells (or girevoy sport/GS) at an early age but did not use such chances! I moved to the US in 1997. Before then I lived in Moldova (a country of the size of Maryland, part of former USSR, wedged between Romania and Ukraine). Because of proximity to Russia I was exposed to GS but never really tried the sport as it wasn't well developed in Moldova back then. Besides, I was doing rowing which had the status of a national sport at the time.
Kettlebells came back into my life in 2010 when I saw a few videos of Valery Fedorenko that provided my first formal exposure to competitive girevoy sport.
2. Describe what it was like to step on the platform for the first time.
It was exhilarating.
3. When did you start lifting kettlebells?
November 2010 – I saw an ad by Bob Garon of Synergy Kettlebell about a local competition and jumped at it. I signed up for 24 kg biathlon, failed within 2 minutes of my jerk set then failed after 3 minutes of snatching but then did well in one-arm 32 kg long cycle, so I was pumped! Thereafter I trained for a year alone and then did 57 reps in long cycle with 24 kg. I also realized then that I hit the wall in terms of designing my own training. It was also at that time that I discovered Igor Morozov's channel on youtube.com. Igor is a 10x world champion and member of a very small club of lifters in the world that have achieved 150+ reps in jerk with two 32kg bells. Igor is also a great coach and I found his explanations very clear and helpful. I wrote to him and he replied right away. That was in December 2011. We've been training together since.
4. What motivated you to become a girevik? Why do you lift?
I have always been a competitive kid and that drive and excitement to compete stayed with me and actually became stronger over years.
When I moved to the US I tried running and triathlon, and while they were exciting, I wasn't very good at them. The real fun for me comes from participating and winning so I kept looking for "my" sport. It was at that time that I started hearing about kettlebells and saw various videos of athletes lifting 24kg and 32 kg bells. I immediately recalled my childhood in Moldova and that I actually knew of these things. Also, I could see parallels to rowing: cyclical sport, requiring both power and endurance and ability and patience to win the fight with pain – all things I liked to do.
5. What is your athletic background?
I tried some wrestling and boxing in school but my first truly competitive sport – the one I did for almost 5 years – is flat water canoeing. I got the equivalent of Candidate of Master of Sport in it.
6. What is your nutrition like?
The sport is primarily an endurance sport so my diet is biased towards carbo loading: oatmeal, buckwheat, some protein mostly from milk, yogurt, farmers cheese. I use minimum vitamins trying to get them from natural sources such as fresh fruit and veggies. I grew up in a wine country so I don't mind a glass of red wine here and there, but generally stay away from alcohol well before competitions.
7. Can you share your favorite healthy recipe?
I like "tvorog" – Russian farm cheese with sour cherry jam. If it has the right texture it tastes like New York cheese cake minus that feeling of guilt that comes post-consumption!
8. Who is your GS hero or heroine?
This is a hard one – there are so many accomplished Russian, international lifters. And even though it is a young sport here, there are very strong up-and-coming lifters in the US. I don't want to leave anyone out. I do want to tell you about Mattia Amodio, an Italian lifter, the first non-Russian girevik who did 90 reps with 2×32 kg in long cycle in the weight category of 85 kg. Right now I think he shares this record with another great lifter, Denis Vasilev of Russia.
Recently, Mattia placed a Facebook "like" under one of my training sessions with 28 kg and wrote a really nice comment. There was nothing earth shattering in my performance — far from it — yet one of the great girevoy sport lifters currently in the world had the time and desire for a small encouragement. I think a true hero always does something like that: it's not just about me or my performance, it's also about everyone in this sport, no matter how they train and compete.
9. What is life like outside of kettlebell sport? What are your hobbies? How do you balance these with training for the sport?
I work in finance and my hours are very much client-driven and take the largest and the most productive part of my day. Besides that, my wife and I have three children (4, 7 and 19). Obviously our 19-year-old's need for parenting is low (she would argue she does not need any parenting, thank you very much!) but in the end children need you in so many different ways. I guess this just means that I have little time for other hobbies besides girevoy sport. I do like reading and watching sitcoms when I have a moment.
10. What is the most challenging aspect of being a lifter?
Patience: patience to work through entire 10 minutes of a competitive set when everything in your body and brain screams "Drop it!" and patience to train, wait and see the results. Kettlebells do not like or tolerate speed dating.
11. What is the most rewarding aspect of being a lifter?
On the bright side, girevoy sport rewards day to day work and patience. While ultimately talent separates top gireviks from everyone else, this is still a sport where you can get very far if you work consistently. And it's great to see that there is a sport where hard work and consistency makes a big difference and there is less chance of genetic luck. You also meet a lot of new people: girevoy sport is a great community of individuals both online and face-to-face.
12. What is one of your greatest accomplishments in the sport? In life?
To date my biggest accomplishment in girevoy sport was to be part of the US Team at the World Championship in Tyumen, Russia in November of 2013. I mentioned earlier that it is fun to win but I knew that there was no chance on earth I could win against top guys so I was going to Tyumen in "Rocky I" style – just wanted to go the distance against best lifters in the world. I did 44 reps in long cycle with 32 kg, got only 1 no count from strict Russian judges and lasted all 10 minutes and actually placed ahead of a few competitors.
As far as life achievements: I am proud of having a family where my wife is a great partner and friend and we have three strong-willed and fun children – it is not easy to juggle and keep it all together.
I do hope my greatest achievements are still ahead.
13. Can you share your favorite quote/motivational thought?
This is the problem of being born in a different country and ending up speaking several languages: I have various quotes in my brain all the time and it can be confusing! If I were to translate and summarize them though it would boil to something like "just get it done". The shortness of it resonates with me – overthinking and over-analysis can indeed paralyze any spirit of venture: it's indeed a risk when you take heavy bells in your hands and you don't know if you will last 10 minutes. So I am telling myself "just get it done" before training or competition.
14. What is one thing about you that most people would be surprised to know?
I am really good at telling bed time stories.
15. Quick – if there is one person you would like to interview, who would it be? What question would you ask them?
As I mentioned earlier, I like movies and would love to interview Sean Connery.  I hear movies are extremely competitive business and whatever one may think about Sean Connery, he never dropped a bomb as an actor: all his movies are really fun to watch whether you see him as a young James Bond or a reclusive old writer! Understanding how one gets to such a consistent performance is really interesting to me.  Plus I read that he was a really good athlete both as a bodybuilder and karate practitioner.
16. Do you have a next goal? What keeps you going?
I would like to compete in the Nationals on August 23 and get into the US National Team for the World Championship in Germany. My longer term plan is to become Master of Sports International Class – it's the 10th Dan in kettlebells!
17. Any advice or message for the community of kettlebell sport lifters and coaches?
I am still learning about the sport but with the benefit of 3+ years here it is:
For athletes (beginners): Don't copy technique of the greats even if you they have similar body type and even look like you. Try to listen to your body and find those movements that allow you to relax between reps, lift the bell above your head in the least strenuous way and get into the zone. If you feel that your face is tense and there is pain then something is wrong no matter how correct your technique looks to the outside world. The second thought is not to rush from light weights to heavy ones. Really master the light weights. If you get them right and can easily work through a 10 – 12 minute set move to heavier ones but don't be afraid to return to light ones even when you are already working with heavy sets.
For star athletes: Continue to do things that inspire all of us and let us love you!
For coaches: You cannot improve unless you have a great coach who is almost like a parent or a wiser sister/brother.  The road to mastering girevoy sport is long and any encouragement coaches have for us  students not just in gym but also outside of it will go a long way.
For both athletes and coaches: We are not doing it alone. We won't be able to compete without having good business people who manufacture great equipment, provide gym space or organize great training seminars. We won't be able to validate our improvement without strict, fair and patient judges and finally we won't be able to enjoy the sport and go an extra mile without the cheering of fans and just bystanders who are interested enough to stop by and see you lift.  All these groups are equally important to the sport so work with them, take the time to thank them and you will do great.
Happy lifting!
Watch Victor in action. Here he represents USA in the 2013 World Championships in Tyumen, Russia:
http://www.youtube.com/watch?v=SFjStpqPpxE – world championship Tyumen 2013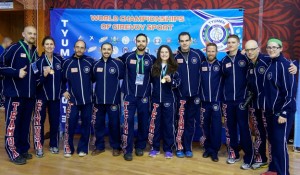 Team USA 2013: With Julie Brady, Eric Reyelt, Kyle Hartcorn, Juan Pellot,Jenny Perkins, Frank Tuscano, Randal Setzler, Michael Cricks, Victor Culiuc and Amanda Wegner
Have a great week!
xoxo
Bea