Meet Thierry Sanchez, who is originally from France and now lives in Denmark.
I stumbled upon Thierry's blog a couple of years ago, while looking for more information on kettlebell sport. His blog is one of my favorites – it contains substantial, interesting information about girevoy sport and training in general. Although we have never met in person, he gladly granted my request to share a link to his kettlebell history blog post. Check out his blog here. I enjoyed getting to know Thierry a bit more through this interview, and I hope you do, too!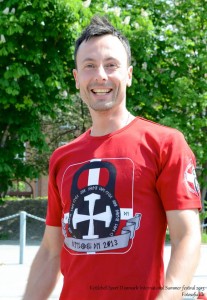 THIERRY SANCHEZ
Online Kettlebell Coach
President, Danish Kettlebell Sport Federation
1. How did you find out about GS/kettlebell sport?
By accident, actually! I was looking for other options to a RKC certification in Denmark and went to the UK for a workshop with Vasily Ginko. The GS techniques and the idea of competing in a traditional sport were more appealing than what I had learned through Pavel's books.
2. Describe what it was like to step on the platform for the first time.
I was nervous as hell. Here I stood with roughly 6 months training with 24kg kettlebells, directly from training with 16s. I knew my numbers were very low but you have to start somewhere. It was in Ventspils in 2009. I managed to do 44 jerks; and I dropped the bell before changing hands after 50 snatches or so. But actually the juggling event was even more nerve-wracking. The 16kg kettlebell felt so heavy and I dropped it so many times. The public was great, though, and cheered me on!
3. When did you start lifting kettlebells?
I started in 2008 but never trained consistently for a whole year except in 2010 and 2013. Life can get in the way sometimes.
4. What motivated you to become a girevik? Why do you lift?
Because it's a sport that suits my temperament and body type. I enjoy the small progress and discoveries along the way. It's "me time", akin to some meditation.
5. What is your athletic background?
Cross-country and downhill skiing, and mountain biking. But as a kid, I tried many sports, including basketball, horse riding, shooting, and fencing.
6. What is your nutrition like?
I eat when I am hungry until I am no longer hungry, picking the best food choice that I can, that's about it! I was born in france so I enjoy my slow food and quality ingredients.
7. Can you share your favorite healthy recipe?
Well maybe it won't be healthy for everyone… I like my morning gruel. Oats, dates, raisins soaked overnight. Bring to a boil, grate an apple into it, add cinnamon and garnish with fresh berries and bananas.
8. Who is your GS hero or heroine?
Ksenia Dedyukhina, Anton Anasenko, Oleh Ilika but there are many more!
9. What is life like outside of kettlebell sport? What are your hobbies? How do you balance these with training for the sport?
I have a 4-year-old boy, run my own business, so not a whole lot time to do much. I like to chill out as much as possible, go for a walk in the woods, cook, read. Very low-key stuff. When I get old I can see myself painting or doing something arty.
I basically make a commitment of 30-60min 3 days a week for training.
10. What is the most challenging aspect of being a girevik?
Finding money and time to go to competitions!
11. What is the most rewarding aspect of being a girevik?
The useable strength and endurance (physical and mental) you get out of training.
12. What is one of your greatest accomplishments in the sport? In life?
I did 66 reps LC with 2*24kg last year at 67kg BW (see video below). I pretty much stopped after that, started training again for 8 weeks in January this year and then stopped again. I just did 45 reps after a period of 4 months without GS training, in Lyon on the 8th of June. That is an OK baseline.  I think my accomplishments are better as a coach.
In life, my kid. Sounds cliché but parents will relate to it!
13. Can you share your favorite quote/motivational thought?
"He who stops being better, stops being good." Always learn, always improve because a contender lurks in your shadow.
14. What is one thing about you that most people would be surprised to know?
I have tattoos in place you do not want to think about… too late haha!
15. Quick – if there is one person you would like to interview, who would it be? What question would you ask them?
Usually people might say Jesus or Elvis…. I'd rather know myself, just before I die. I'd like to know what will be my biggest regret so that I could work on it.
16. Do you have a next goal? What keeps you going?
Not really, I just plan to do basic simple strength training for a while, see what happens.
17. Any advice or message for the community of kettlebell sport lifters and coaches?
We need more media coverage of the sport. Also, Kettlebell Sport is more than jerk, snatch and long cycle! Try kettlebell marathons, pentathlons, team relays, juggling…
For coaches, stop trying to be the best and badmouthing others. You can only be the best in relation to the specific clients you have. There is not a single system that works for everyone. And last, you can probably simplify your approach a lot if you work with busy people.
Thank you and happy lifting everyone!
See Thierry in action:
Have a great week!
xoxo
Bea