Meet Mitch Blackburn, an incredibly talented and humble kettlebell sport athlete from Fenton, Michigan. At 19 years old, he became the youngest Master of Sport in North America in 2012. The first time I knew of him was when I took an IKFF Certification taught by Ken Blackburn, his dad and our coach. Ken mentioned Mitch as an example of a relatively small athlete with incredible work capacity (He was at a bodyweight of 73kg, lifting 2 x 32kg bells 62 times in 10 minutes when he earned Master of Sport). Later, I saw glimpses of Mitch in Facebook videos, one of which featured him doing a 5-foot+ vertical jump; he can jump over me! I finally met him in person in November 2013, where I enjoyed watching him lift in the Long Cycle event. What I enjoyed even more was sitting next to him at Team Blackburn dinner that night, when he taught us the latest slang words 🙂 I also found out that he is currently finishing his last year at the University of Michigan and will graduate with a double Bachelor's degree in Finance and Accounting.
Mitch may only be 20, but the depth of his insights and wisdom beyond his years shine through in this interview. This interview made me smile, laugh, and have true lightbulb moments.
I am honored to know you, Mitch, and look forward to seeing you on international stage!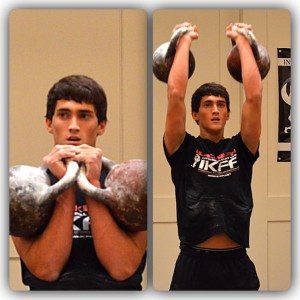 MITCHELL BLACKBURN
IKFF CKT
Onnit Labs Sponsored Athlete
Student, University of Michigan
Event: Long Cycle
Rank: Master of Sport
Coach: Ken Blackburn
1. How did you find out about GS/kettlebell sport?
Being that my dad, Ken Blackburn, and Steve Cotter were one of the first few Americans to explore the GS approach to kettlebells, I was lucky enough to find out about them very early on.
2. Describe what it was like to step on the platform for the first time.
It really wasn't that nerve-wracking.  I dreaded the idea days beforehand, but as soon as the first minute passed it was just a good time.  I was a beginner so there was no fear of failing, just nerves from competing in front of a crowd.
3. When did you start lifting kettlebells?
Around the age of 15 is when I started to train seriously.
4. What motivated you to become a girevik? Why do you lift?
I had an incident when I was younger, back in my days of being overweight, where I fell backwards and landed on my back.  A relative was aggressively coming towards me as I landed so I immediately tried to get back on my feet.  The surprise from falling was somehow enough to make me gasp for wind, to the point where I wasn't capable of getting back up.  This scared the shit out of me, the fact that a simple fall could completely put me out of commission aerobically.  Not saying this was the defining moment, but it was one of many that had an impact on me.  Exhaustion can be terrifying, and one thing gireviks are very good at is being tired, so it seemed like a good fit.
5. What is your athletic background?
I have tentatively tried different forms of athletics but the few that stuck out most were gymnastics, lacrosse, and Brazilian Jiu Jitsu.  I don't pursue these with the same intensity as I do with GS but they are definitely a solid distraction when I need it.
6. What is your nutrition like?
I try to follow the philosophy that as long as you consume all the good stuff your body needs, anything extra is free game haha.
7. Can you share your favorite healthy recipe?
Sometimes I'll just make a concoction of quinoa, kale, sweet potatoes, eggs, and turkey sausage topped with Himalayan salt.  The taste is alright but the change in energy levels makes it all worth it.  Plus you can make a huge batch and be set for a couple of days.
8. Who is your GS hero or heroine?
I have no GS hero in particular because in general, the people I look up to are the athletes starting from scratch.  In a joking sense, I was raised into this sport.  I have a great coach (my dad, Ken Blackburn) and all the necessary tools simply handed to me right from the get-go.  I didn't have to decide to make the change, or buy a gym membership, or find a coach.  So the guy/girl who shows up to a competition alone with zero ties to anyone, and gives a max effort all on their own, will always be someone I respect.
9. What is life like outside of kettlebell sport? What are your hobbies? How do you balance these with training for the sport?
Being a full-time student and working an awful retail job, keeping my sanity outside of training is critical.  I used to avoid late nights and having a good time with friends, assuming that the universe would reward me for staying on task.  Come to find out, the universe doesn't really care haha.  The competitor who is capable of separating themselves will have better results than someone with a mechanistic approach to life.  Deep waters aren't as daunting when you are happy, inside and outside of GS training.
10. What is the most challenging aspect of being a lifter?
Easily the most challenging part of being a lifter is to carry on despite the many setbacks you may have.  I don't think there is a single form of physical activity out there that is heartbreak-free at higher levels.  I personally do not deal well with disappointments, and when I don't get the result I want I become more internally cruel towards myself than anyone else could ever be.  It's all about bouncing back, no matter what.
11. What is the most rewarding aspect of being a lifter?
The sense of achievement knowing that the only way that set was possible for you at that given time, was if you did everything to the letter.  Breathing, grip monitoring, and rep quality all must be done perfectly in order to hit that PR you've been obsessing about for months.  Also, the sensation of your body being completely wrecked afterwards is kind of cool.  Essentially, this is what the set is all about.  Not sure why but my best guess is that most GS athletes, to some extent, are masochists haha.
12. What is one of your greatest accomplishments in the sport? In life?
Within the sport it would have to be when I competed at the IKFF Nationals in 2012.  Despite the set being total garbage, I cannot let go of how hard I pushed myself.  I was nowhere near ready for that pace but I chose to go for it anyways, and never set the bells down.  I have actually had horrible dreams about that set and was slightly traumatized by it.  However, it did allow me to see what I am capable of if I have to go down that route again.
As far as my greatest life accomplishment goes, that is still a work in progress.  I just want to continuously set new life goals, to evolve and get better.
13. Can you share your favorite quote/motivational thought?
"Fear is the genesis of most of the good things that have occurred in my life. Fear is the beginning of every success I've lived" -Georges St-Pierre
14. What is one thing about you that most people would be surprised to know?
I guess one thing that may surprise people is that I have bad social anxiety.  Most people never see this because I have gotten really good at flipping on the "social switch" when I need to.
15. Quick – if there is one person you would like to interview, who would it be? What question would you ask them?
Probably Seth MacFarlane, as unusual as that may sound.  The reason being not that he's the creator of a popular show, but rather his ability to communicate and present comedic material when the moment truly counts for him.  Since his "theme" involves offensive humor, if he bombs at an event like the Oscars for example, he's in trouble. People with his style of comedy don't get a free pass when they screw up, yet he finds a way to kill it every time.  So I guess my question would be "How do you overcome the pressure of maintaining your image, while performing in front of thousands?"  Not GS related by I can always appreciate the ability to perform.
16. Do you have a next goal? What keeps you going?
Of course I'm going to continuing setting new goals in GS, but my hopes are that one day I feel successful enough in kettlebell sport to where I can transcend into the next challenge.  I definitely want to continue to grow with this sport, and for the sport to grow with me but my overall mission is to receive greater opportunities with kettlebells as my gateway.
17. Any advice or message for the community of kettlebell sport lifters and coaches?
I guess my best advice would be to prepare yourself for the transition from beginner to advanced lifter status.  This seems fitting because more and more people are becoming high-level competitors and coaches.  In the beginning, people relish the challenge.  They have a huge smile on their face from the cheers and support, even if it's the final two minutes of the set.  The numbers and PR's steadily increase, regardless of technical imperfections and periodization. This is the era where a massive adrenaline rush actually HELPS their performance.  The sport is basically a drug and they're hooked.
Then the day comes where improvement stops, and the sport becomes a lot harder than they remember it being.  This is when one dreads the training session they are about to endure, and when they start to worry how others perceive their talent in the GS community.  This transition can make or break any newcomer.
The competitive frustration, plateaus, suffering under the bells, and the tragedies can be overwhelming if someone is not prepared for it.  Instead of trying to conquer these feelings with false optimism and motivational pictures/videos, be realistic with yourself and figure out how you operate now that you're at the next level.  Develop an understanding of yourself and what it takes for you to have the perfect performance.  The more mentally grounded you are in training, the better your results will be.  Instead of having a breakdown and telling yourself you lack what it takes, acknowledge that this is all part of the process to becoming great.
Watch Mitch in action. Here he lifts 36kg bells x 3 minutes x 8 reps per minute:
https://www.facebook.com/photo.php?v=10203719409565221&set=vb.1217403473&type=3&theater
To learn more about IKFF and its upcoming certifications and events, visit: www.ikff.net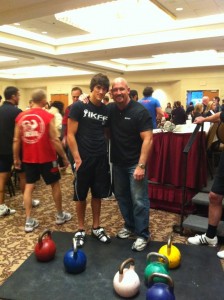 Mitch with his father and coach, Ken Blackburn
Have a great week!
xoxo
Bea