Meet my friend Megan Densmore, a kettlebell sport athlete and owner of MeganMasterFit based in New York City. We met a year ago at the 2013 AKA/IUKL Nationals in New York, where we competed side by side in the Long Cycle event. Months later, in the process of searching for a place in Chicago where she can do her girevoy sport (GS) training, we connected and started corresponding over the phone and email. Our conversations led me to try Shaklee health and nutrition products, which she uses daily. Vita-Lea with Iron is my choice of multivitamins, which I take everyday. I referred several friends to her, and marveled at her ability to match people's needs with appropriate solutions. I also respect her ability to multi-task, as she effectively juggles GS training with her jobs as an actress, a Shaklee distributor, and a Pilates instructor. The qualities that are most impressive about her, though, are her positive outlook on life, her kind nature, and sincere desire to help all kinds of people achieve a healthier lifestyle.
Watch Megan lift at her next competition in New York City, on August 23rd! Go, Megan!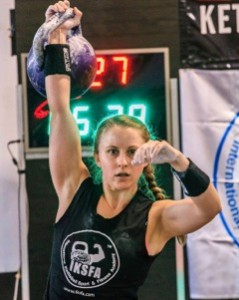 MEGAN DENSMORE
Owner, MeganMasterFit
www.meganmasterfit.com
Event: One-Arm Long Cycle
Coach: Sergey Rudnev
1. How did you find out about GS/kettlebell sport?
A trainer friend of mine when I used to work at Equinox had competed once before and showed me the basics but it wasn't until I joined Reebok Sports Club in NYC as a member that I actually learned about the sport.  It was there that I met my first coach, Eric Hayes.
2. Describe what it was like to step on the platform for the first time.
Terrifying!  I was sure that I would step off the platform or drop the bell or do anything that would give me the command stop.  In the end I far exceeded my rep goals for the day and made Rank 1 in 12kg OALC with only one no count.
3. When did you start lifting kettlebells?
I started lifting kettlebells in January of 2012.
4. What motivated you to become a girevik? Why do you lift?
I was actually looking for a sport to compete in when I found GS.  About 6 months prior to starting training for my first GS competition I was officially pain-free and healthy for the first time since I was a teenager.  I had dealt with debilitating chronic pain from a condition called Fibromyalgia for over a decade prior to that point.  I lift because I can.  I lift because I love it and I am grateful every single day for what my body can do.
5. What is your athletic background?
I was a competitive gymnast and dancer as a kid and played numerous sports over the years until my diagnosis.
6. What is your nutrition like?
For me nutrition is everything.  Especially since this is how I got healthy enough to train again in the first place.  I have a fairly extensive regimen of vitamins and supplements that are all natural and I am gluten intolerant so that is out.  I do my best to eat as many vegetables as I can daily and I try to limit animal protein intake to once daily.  I am also severely hypoglycemic so I tend to eat every 3-4 hours to keep my blood sugar balanced while avoiding refined sugars.  I have become a bit of a sports nutrition expert along the way but my diet is by no means the most clean.  I will not give up my dark chocolate!
7. Can you share your favorite healthy recipe?
Banana Protein Pancakes
1.5 bananas
2 eggs
1 scoop Shaklee 180 vanilla or vanilla chai protein powder or protein powder of your choice
Dash nutmeg
Dash cinnamon
Dark chocolate chips (if desired – 70% cacao or higher recommended)
Mix all ingredients but chocolate chips in food processor.
After fully mixed stir in the chocolate chips.
Pancakes may be runny so make smaller dollar sized pancakes for best results.
Enjoy!
8. Who is your GS hero or heroine?
My GS hero is my coach Sergey Rudnev.  He is one of the kindest people I have ever met and he is as excited by the success of his students as he is of his own.  Possibly more!  In his own right Sergey is one of the most decorated athletes in the sport.  I also love that he is a lightweight lifter who can hold his on the platform next to guys twice his size.
9. What is life like outside of kettlebell sport? What are your hobbies? How do you balance these with training for the sport?
Outside of kettlebell sport and my business in fitness and health and wellness I am a working actress.  I primarily do voice over work but I will occasionally do a play.  I am thinking about getting more involved in the industry again at some point but for now I am having fun.  I love to go to concerts and theatre and do a little singing and songwriting for fun.  Travel is also something I appreciate and I try to do 2-3 big trips per year.  Balancing these things is always a challenge, but I am a firm believer that if something matters enough to you it is possible to accomplish.
10. What is the most challenging aspect of being a lifter?
It can take over your life and sometimes you can feel chained to the gym and to your training schedule.
11. What is the most rewarding aspect of being a lifter?
It teaches you patience and commitment to a long-term healthy and fit lifestyle in a way nothing else can.
12. What is one of your greatest accomplishments in the sport? In life?
I feel like I have only scratched the surface in GS but I am proud to be a lightweight lifter who is able to train with the heavier bells.  My greatest accomplishment in life is facing a diagnosis that could have changed my life in all of the worst ways and instead I made the best of it and it has made me who I am today.
13. Can you share your favorite quote/motivational thought?
"Someday is a disease that will take your dreams to the grave with you." – Tim Ferriss
All we have is right now.  Why wait?  Take actions that move you in the direction of your dreams now.
14. What is one thing about you that most people would be surprised to know?
I'm obsessed with helping people, making connections and networking.  I will go out of my way to connect people who I think should know one another!
15. Quick – if there is one person you would like to interview, who would it be? What question would you ask them?
I would interview Abbye Stockton about what it was like being a strong woman back then.  To see if she faced similar challenges that women with visible muscles face now.  Somehow I have a feeling things aren't as different now as we think they might be.
16. Do you have a next goal? What keeps you going?
I am focused on achieving the CMS rank in long cycle.  I keep going because I love the sport and I appreciate the challenge of always getting stronger.
17. Any advice or message for the community of kettlebell sport lifters and coaches?
Go at your own pace.  Don't be in a rush to get to the next kettlebell rank or to lift the next heavier kettlebell.  Allow your body to adapt and get stronger at your pace.  Stay injury-free and enjoy the process!
Watch Megan in action! Here, she hits a PR in Long Cycle, 100 reps in 10 minutes:
http://youtu.be/suQgoDhwTJw
xoxo
Bea