Around this time last year, I met accomplished kettlebell sport athlete and coach Lorna Kleidman at the AKA/IUKL Nationals. We had a brief conversation, but it meant a lot to me when she complimented me on my Long Cycle set, telling me, "Beautiful lifting!" Last year she served as a competition judge, but this year she returned to Nationals as a competitor in Snatch event (24kg), taking home a gold medal in her weight division of 63kg. Enjoy learning more about Lorna!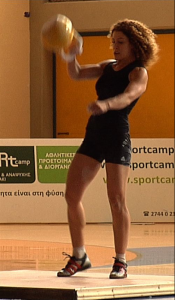 LORNA KLEIDMAN
3-time World Champion, 3- time MSIC
Creator of KettleX Fitness
Events: Biathlon, Long Cycle, Snatch only
Coach: Sergey Rudnev
1. How did you find out about GS/kettlebell sport?
Just being at the right place at the right time. I met a trainer who introduced me to the bells as part of our overall fitness sessions. This person then put me on the road to KB sport. I've heard this same story from many other competitors- it's usually because of one particular person that they began the journey toward lifting KBs competitively.
2. Describe what it was like to step on the platform for the first time.
As expected, I was very nervous! I was eager to be done with the set once it started, which is obvious if you watch my video – I turned and ran off the platform the moment I put the bell down! Afterward I approached the best female lifter there, she was from Russia. I wanted to know what her result was on her own very first competition. I was relieved that I had done a bit better in my first event, and this sparked my interest to stay with it and train for the next competition.
3. When did you start lifting kettlebells?
In late 2005 I began lifting the bells, then in 2007 started training in earnest for sport. I competed for four years and then decided to retire. But came back to the game in 2013 for the pure love of it, removing all the pressure I had placed on myself before. During those 2 years away I dabbled in many 'silly' workouts, just for fun, but I had never stopped general strength and conditioning.
4. What motivated you to become a girevik? Why do you lift?
The encouragement from my first instructor and then from my first coach motivated me to give it a try. I had no idea what to expect, yet I was fully ready to take this skill to another level instead of just lifting for fitness or physique. I'm in it for the love of the process – setting goals and meeting them, or trying to find the way to finesse the technique so the goals are met. Like anything, it requires patience and a lot of work, but fortunately everything is easily measurable. The requisite focus with the learned ability to remain calm while in an eventual struggle is the best part.
5. What is your athletic background?
I don't have an athletic background, but danced professionally for a short bit many years ago. I wish I had started lifting back then, but had no idea about it. I thought I wanted to be in theater.
6. What is your nutrition like?
My nutrition is good, I eat protein at most meals, lots of salads, nuts, the usual stuff. I don't go out of my way for protein shakes any longer though, I prefer to eat. I often crave sugary, starchy snacks a couple of hours after a tough session and let myself have a muffin once in a while, I love it! I only consume dairy in my coffee now, I've experienced tremendous allergy relief since eliminating yogurt and the like. I could not see myself ever preparing for an aesthetic competition. Measuring and following a food plan in order to get your body to look a certain way, only to have someone judge it subjectively? I don't know how folks do that.
7. Can you share your favorite healthy recipe?
Here's one- Strawberry Protein Pancakes (serves 2)
1 cup gluten-free rolled oats
2 cups strawberries
4 egg whites
1 scoop of vanilla whey protein powder (or protein of your choice)
dash of cinnamon
tsp of vanilla extract
cup almond milk
Ghee for pan
Mix ingredients in blender and cook in pan. I sprinkle Stevia or Agave nectar on top.
8. Who is your GS hero or heroine?
Everyone who competes in the sport!
9. What is life like outside of kettlebell sport? What are your hobbies? How do you balance these with training for the sport?
Time is spent seeing friends, traveling and being with my husband. Playing Scrabble, chess, watching foreign films (favorites are with Daniel Auteuil) or watching an interesting series. Right now I'm watching a new season of "The Hunt." Balancing life is not so difficult for me since I don't have children and I'm surrounded by many supportive people, this is the key. I'm also in school now to finish my degree, so that takes up considerable time.
10. What is the most challenging aspect of being a lifter?
At times I want to include more activities into my week, but have to be very conscientious about energy expenditure. Recovery is a demanding process these days. For example, I used to go for a yoga class or jog after a lifting session, but now it's necessary to eliminate most excess activities between workouts for the sake of achieving proper nervous system recovery. This is just part of the process for me.
Another- I'm sure I speak for many lifters by stating that KB Sport can be challenging even when you're not lifting! The beauty and the challenge of this sport is having to constantly explain what it is. It's like having an unusual name that everyone mispronounces: on the one hand you have a cool name, but on the other hand you go through the days correcting everyone. So it's reiterated – it's not an aesthetic event, it's a performance event. It's not about brute strength, it's about technique, endurance and sub-maximal of strength. No, it doesn't hurt your back and no, you can't pick up my 20kg and try to Snatch it.
11. What is the most rewarding aspect of being a lifter?
Giving your all to the process is its own reward, plus the feeling of health and confidence that results.
12. What is one of your greatest accomplishments in the sport? In life?
Being able to take what I've learned and present it through label KettleX. The first series of DVDs are out, now developing three other projects that are forthcoming. I love communicating with fitness enthusiast and trainers world-wide, being able to make just the slightest difference for them. It's truly satisfying.
13. Can you share your favorite quote/motivational thought?
Anything by George Carlin! But seriously, there are hundreds that I love for each and every aspect of life. I enjoy reading the quotes and seeing the images that they're placed on, but they don't motivate me. Thoughts and words don't offer as much as when my mind is quiet.
14. What is one thing about you that most people would be surprised to know?
Just one thing? I'll offer two: I have an avuncular affinity for older male celebrities and smarties like Dustin Hoffman, Jack Klugman and Bob Woodward (I can hear many folks asking 'who?'). Also, I suffer from misophonia. I've done a lot of reading about it, discovering that many people have it without knowing. You'll have to look it up, but it's a real thing.
15. Quick – if there is one person you would like to interview, who would it be? What question would you ask them?
Maybe Henry Kissinger. I'd ask him to teach me how to think like a diplomat. It would be a great experience to sit with a person like that.
16. Do you have a next goal? What keeps you going?
There's always a next goal, but more than the goal, it's about the relationship you build between yourself and the lifts. Everyone has a different reason, but it's often hard to describe. Some people are motivated by imagining the bells as their nemesis, something that must be beaten, while other see the bells as their friends. Either way, there's a relationship that forms and it makes specific demands on you. Those demands keep you going and wanting more.
17. Any advice or message for the community of kettlebell sport lifters and coaches?
I love the KB sport community! Missing the camaraderie is part of what brought me back to the sport. I see a lot of good lifting that's happening, especially here in the States. Just keep in mind that there's no one style. Watch everyone, but then you have to discover what works best for you through trial and error.
Watch Lorna in action!
https://www.facebook.com/photo.php?v=10152586249559451&set=vb.773499450&type=2&theater

Have a great week!
xoxo
Bea