This year marks the seventh death anniversary of my mother Mila, yet I still feel her loving presence. Her compassionate and relentlessly positive spirit lives on in my family and in the lives of people she touched. Although I will definitely write about my mother one day, today I want to celebrate the man who loved her faithfully for 44 years: my father, Ernesto Rodriguez. Now 72 years old, he is at his strongest and most positive I have ever seen him. But he wasn't always this way. I want to give you a glimpse of who he is; by the end of this post, you will understand what makes him an extraordinary man and father.
***
I don't remember exactly why, at five years old, I randomly asked my dad if he and my mom could start calling me "anak," the Tagalog word for "child." I had probably heard it on TV, liked the loving way the word was uttered by a parent addressing their child. I don't remember exactly where we were going, but I do remember sitting next to him on the passenger seat of the family's light yellow van when I presented my request. "Okay," my surprised father agreed as he drove, "but on one condition. You need to call me either Tatay or Itay; your mother Nanay, or Inay. You choose." I chose Tatay and Nanay, just because they sounded better in my mind. My sister, three years younger than me, followed suit. (My older siblings – all five of them – have always referred to him as "Dad" or "Daddy").
Tatay enjoyed this new development so much that we even dramatized it some nights after he came home from work. "Anak!" he would call out as he entered the door, and I would respond with "Ta-tay!" And we would run towards each other, in slow motion, just like the movies. Between my parents, Tatay is definitely the more effusive and dramatic one. Even his sneeze is dramatic; he literally explodes, shouting "whiz-keh!" as if demanding for whiskey, as if expelling the sneeze is the thing that matters the most in the world. Whenever I came home with five purple stars stamped on my arm, indicating that I did well in kindergarten class that day, he cradled my head by gently pinching my ears, exclaiming "Ve-heh-ry Good! My child is exceptional!" with an emphasis on "very."
Well, like father, like daughter 🙂 Tatay is exceptional in the way he leads his life. At 72, he is a total badass: he is working hard to take care of himself physically and mentally, to keep sharing his wisdom with his children, to motivate us, to enjoy his grandchildren, to solve family conflicts, to express his pride and love for each of us.
He wasn't always this badass, though.
From a Pack-a-Day Smoker to a Strong 72-year-old
At 15 years old, he started smoking cigarettes. Although he played basketball with his buddies, he didn't take care of himself very well. His favorite "pulutan" or snack with his San Miguel Beer was chicharron — crunchy, fatty pork rinds — which he enjoyed as he watched his favorite basketball games on TV. By age 29, he ballooned to 182 lbs. In his 30s, he could smoke two packs of Marlboros during stressful days at his sales job; one pack on an average day. If he was in the office doing reports, he could easily drink 8 cups of coffee in half a day.
One day, after picking up a pen from the floor, he blacked out for a second. He then felt heart palpitations. It was enough to kick him in the right direction. He started eating better, adding more vegetables and paying more attention to what he ate. At age 36, he weighed in at a healthy 165 lbs.
By the time he reached his mid-50s, Tatay remembered how his parents had died young: his mom at 57, and his dad at 62. Determined to live beyond 62, he started adopting an even healthier lifestyle, and stopped eating red meat, ate more vegetables, and took more vitamins and herbal supplements. Today, he loves exercising in the comfort of his own home. Everyday, he plays XBOX360 Kinect Sports games. He usually warms up with bowling, then alternately plays two rounds of table tennis and two rounds of boxing. He also keeps his mind sharp by learning new songs that he finds on YouTube. Just recently, he learned the song "Ain't That A Kick in the Head" by Dean Martin.
From Shy Teenager to Confident Singing Champion
One of my Tatay's greatest passions is singing. I grew up listening to him sing songs by Frank Sinatra, Tony Bennett, Johnny Mathis. I remember watching him on a national singing contest on TV, where he sang a beautiful rendition of "Pieces of Dreams." So I was surprised when he first told me that he used to have "boses ipis," literally translated as cockroach voice, meaning a tiny, small voice.
As a teenager, he was so shy that he couldn't even ask girls to dance at parties. One day, at age 18, he accompanied his dad, who joined a singing contest over the radio and won first place. The radio station's director asked my Tatay to try singing. Tatay sang "A Certain Smile," but didn't exactly wow the director. "You have the potential. Keep singing."
Encouraged, he took lessons, and joined numerous singing contests. In 1961, at the age of 20, he became a two-week champion of "Tawag ng Tanghalan," the first national singing contest televised in the Philippines.  He sang "Hello, Young Lovers" Paul Anka and "It Happened in Monterey" by Frank Sinatra. He gained fans, and even got some acting gigs in movies and TV commercials. Today, he still entertains the crowd at family gatherings. At the end of this post you will see one of his recent performances in a televised game show based in Manila.
His Greatest Passion: My Mother
The greatest passion of his life, however, was my mother Mila. They met on July 11, 1962 while working at the Philippines' Department of Agriculture office. There, they developed a friendship that blossomed into love. In 1966, they got married. Together, they built a close-knit family of seven children.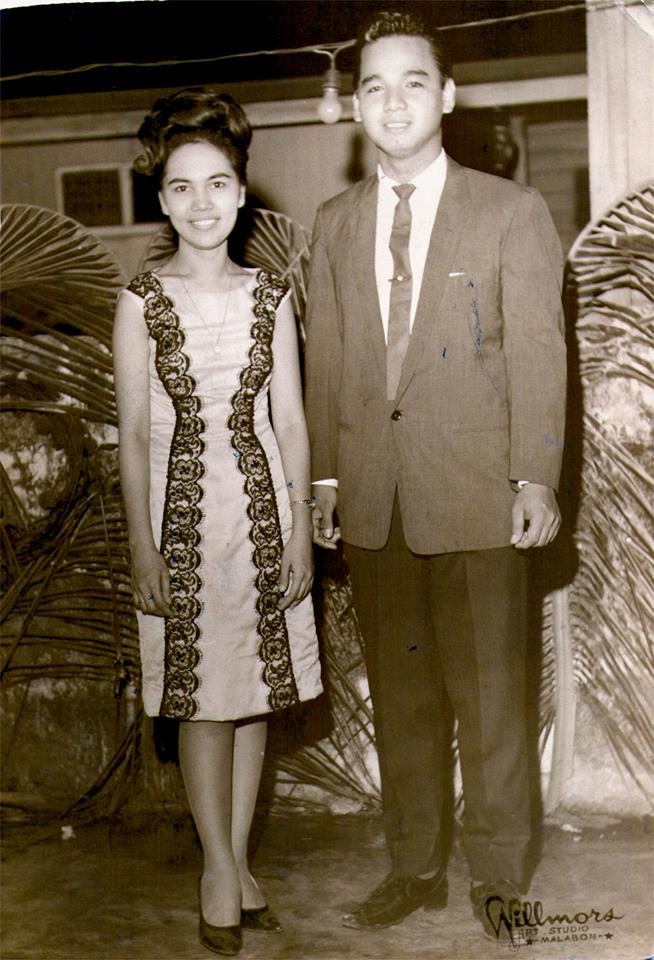 Tatay moved on to a sales job at an international company based in Manila. Nanay moved on to become a secretary at a school's Principal Office. One day, she attended a Tupperware party, where she was recruited to become a dealer. She started making money with this side business, to the point that she was able to resign from her full-time job. In 1975, they both became self-employed in the direct selling business. Tatay was selling fish sauce and soy sauce to different restaurants and other establishments. Nanay did so well selling Tupperware that she was promoted to Manager. At that point, she asked Tatay to support her in building the business.
They were promoted as Distributors in 1981. They named their sales unit "Positives Party Sales," because their goal was to form a group of positive, forward-thinking group of people. They wanted to attract optimistic people who wanted to work with them, so that together they could make an impact on the lives of more people through their business. Their focus was training and developing people to successfully make their own living by selling Tupperware.
The next year, they incorporated their business as Ermil, Inc. By 1984, the company became #1 in sales in the Philippines. They attributed this success to innovative marketing strategies and good people development. They worked well together, and motivated each other: many of the ideas came from Tatay; and Nanay was brilliant with implementation and execution. According to Tatay, he used to worry about everything; but Nanay remained positive, and always managed to lift him up. Because of my mother, Tatay became a better partner, family man, and person. Of course, like any normal couple, they had their differences and would argue with each other, but they remained committed to love each other no matter what.
At one of the Tupperware Distributors' Conferences, my dad was asked to speak. He shared, "I'm so proud of our achievements, but I'm most proud of my wife Mila because of what she has achieved… We have been there for each other through the downfalls and successes of this distributorship. Prior to Tupperware, I was the one who had the knowledge and experience in sales and marketing. My wife was a school secretary before becoming a Tupperware Distributor. I don't mind telling everybody, and I'm not ashamed to say, that Mila has outgrown me in my own field."
My mom spoke, too, saying, "I want everybody to know that my husband Ernie is my mentor. He gave me the support and confidence to become successful in this field."
In 1990, Tatay and Nanay — ages 50 and 48 then — were able to retire early. They devoted even more time to enjoy their family.
Running the Family Like a Company
My mother was equally passionate about Tatay. I remember Nanay telling us that he had his minor flaws, but these didn't matter because it was rare to have such a devoted husband and father. A quality that Nanay appreciated the most about my dad was how he prioritized his family, first and foremost. He could have made a lot more money by accepting jobs as a senior executive in the corporate world. He turned several offers down; instead, he chose to become an entrepreneur with my mother, so he could focus his time and attention to building a good family.
Tatay decided to run the family like it was a company. Trained as a manager and leader at his corporate job, Tatay applied his skills and experience to his own family. He and my mother lovingly raised all of us seven children with the mission that education is the best legacy they can give to their children, so that we can be equipped with the knowledge and skills needed to touch the lives of other people. He and my mom ran annual family meetings where all seven children would evaluate each other, share goals, problem solve, and listen to my parents' nuggets of wisdom. They ran emergency meetings as needed, counseled us, and took us out on one-on-one dinners during our birthdays. They were not perfect parents — there was still some family drama, of course — but at the end of the day, they always had the best intentions.
Recently, my dad told me that he was proud to see that all their seven children have grown up to be compassionate human beings, showing true concern for other people. He has said before, "We are not rich, but what's important is that we understand and love each other, we help each other out, especially among the siblings…Kung sinong nangangailangan ng tulong, tinutulungan. Napakasarap sa magulang ang pakiramdam na ganoon.  (Whoever needs help, they come together as a group. It's the best feeling for a parent to see that in action)."
Love & Loss
Tatay has endured much loss over the past few years. He loved my mother faithfully, up to her sudden death to asthma in 2006. A few days after she died, I heard him sobbing on the phone as he talked to my grandma. "She brought out the best in me," Tatay said in between sobs. Then, in 2009, my brother died in a jeepney accident at the age of 37. He, along with the rest of the family, felt completely broken. It took years for us to grieve and recover.
Last week, during a Skype conversation, he talked to me about resilience. He reminded me that as I venture into new horizons, not everything will be rosy; but what's important is how I bounce back. What's great is that he doesn't have to explain any further; all I need to do is look at the way he has led his life. To this day, he leads by example.
Sometimes when we end a Skype conversation and Tatay says "I love you, anak," I am transported back to that moment when my five-year-old self first asked him to call me "anak." I didn't know exactly where we were going; I was sitting next to him on the passenger seat of the family van he was driving when he honored my request and gave me the power to choose. To me, that moment is the perfect metaphor for our relationship. Now, 29 years later, I am grateful that my Tatay has helped empower me to choose where I want to go in life; and that even though I don't know exactly where I'm headed, I will always be driven by the values he and my mother have taught me; and that he will always be there to support me, no matter what.
Now, even though we are thousands of miles apart, I can't help but feel that Tatay is still — and will always be — just right here beside me, his beloved anak.
***
True, I did not inherit my Tatay's singing gene (I'm a horrible singer!); but I did inherit my Tatay's ability to dream and his drive to reach it. He really wanted to be on this Filipino game show, and he made it happen. And he won it too! Watch him sing Frank Sinatra's "I've Got You Under My Skin" at 5:15.
The song I'm singing these days, though, I'm singing from my gut — it's a love song for my parents. One of the reasons I keep working hard is that I want to follow through on the mission they set for the family. Helping make a difference in people's lives is my way of expressing gratitude to my parents, who have lived their lives with the clear intention of leaving this world a better place, in their own little way. To me, they are the epitome of true strength… and total badassery 🙂
Have a great week!
xoxo
Kettle Bea