What is a kettlebell?
It's a ball of metal with a handle. It's a simple, portable workout tool designed to develop full-body conditioning and fitness. You can use kettlebells to compete in girevoy sport (GS) or kettlebell sport (more on this later), or to perform various movements to improve your strength, conditioning, agility and balance.  There are several kinds of kettlebells; two of the most common ones are the cast-iron and competition style kettlebells.
What's the difference between Cast-iron Kettlebells and Competition Kettlebells?
Both kinds have a metal ball, a handle, and a flat base. Which kind you use depends on your goals and preference.

Below is a picture of a cast-iron kettlebell. Made of cast-iron, it's usually black and and comes in many sizes. The heavier the kettlebell, the bigger the dimensions of the bell. Also, the handles can get thicker as the weight increases. This kind is used for general fitness, most commonly used for hardstyle training. Hardstyle is all about generating power, strength and explosiveness. Each repetition of a move — such as the swing, snatch, press or squat — requires maximum tension, followed by relaxation. A basic principle in hardstyle training is power production, as opposed to power conservation.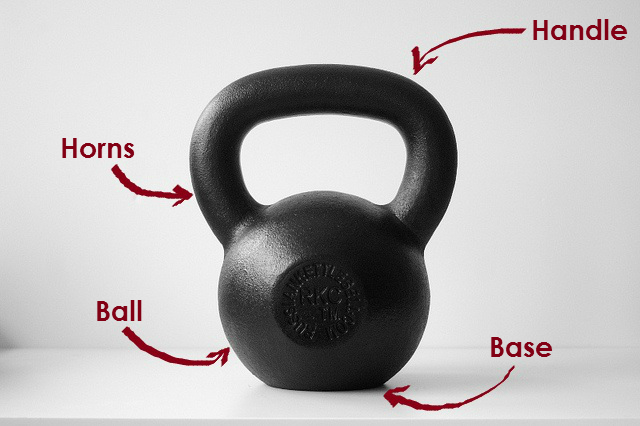 Below is a picture of a competition kettlebell. Made of steel, it comes in different colors, according to weight. Unlike the cast-iron kind, its dimensions and handle size do not change as it gets heavier. The lighter bells are more hollow; they become more and more solid as they increase in weight. This uniform design makes it easier to perfect your technique with a lighter bell; as you "graduate" to using heavier bells, you do not have to adjust your technique to various shapes and handle sizes. Competition kettlebells are used for both general fitness and girevoy sport (GS) training or kettlebell sport. GS style training is all about building power and work capacity, or strength endurance — the ability to work with sub-maximal loads for extended periods of time. This is a key difference with hardstyle training — typically, because of the emphasis on high tension for each repetition, hardstyle lifts are not meant to be performed for extended periods of time. Thus, GS movements are more efficient and fluid in nature, as the lifter conserves power in order to lift for 10 minutes straight, which is the standard time for GS competitions.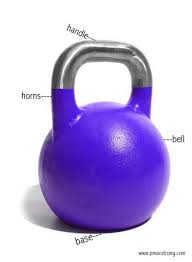 What is girevoy sport?
Girevoy sport (GS), or kettlebell sport, is a power/strength-endurance sport that requires athletes to work under a sub-maximal load, lifting their kettlebell/s for as many repetitions as possible in a 10-minute time frame. Gireviks (kettlebell sport lifters) are not allowed to set their kettlebells down in the 10-minute time frame.
There are 4 main events in kettlebell sport:
*Jerk: Women clean 1 kettlebell to the chest once, then jerk them overhead as many times as possible. Men use 2 bells.
*Long Cycle (Clean and Jerk): Women clean 1 kettlebell to the chest prior to each jerk. Men use 2 bells.
*Snatch: Both men and women use 1 bell: they swing the bell between the legs and bring it to overhead position in one uninterrupted motion.
*Biathlon: This is the combined score of two events: the Jerk and Snatch.
When competing in the snatch or single-arm events, the lifter can switch hands only once during the 10-minute set. A judge and counter are assigned to each athlete, to ensure that only correctly performed lifts are counted.
Several organizations host events locally, nationally, and internationally. Among them are International Kettlebell and Fitness Federation (IKFF), World Kettlebell Club (WKC), International Union of Kettlebell Lifting (IUKL), and American Kettlebell Club (AKC), to name a few. Each organization has its own ranking tables, which are categorized according to event, gender, age, weight division, and kettlebell weight. For many athletes, the ultimate goal is to achieve the ranking of Master of Sport (MS). For example, using the IKFF Ranking Table, if you are an adult female competing in the snatch event in the 59kg division, to achieve MS ranking you must lift a 20kg kettlebell at least 124 times within 10 minutes. If you are an adult male competing in the jerk event in the 90kg division, to achieve MS ranking you must lift two 32 kg kettlebells at least 103 times within 10 minutes. Here is a link to the IKFF Ranking Table.
Where did kettlebells come from?
Thierry Sanchez, an esteemed kettlebell sport coach based in Denmark, has a great article about the history of kettlebells in his blog. Check it out here.
What are the benefits of kettlebell training?
Some benefits of kettlebell training include:
*improved strength
*incredible work capacity (strength endurance)
*enhanced athleticism (flexibility, coordination, balance, agility, etc)
*weight loss
*mental toughness
*lean and functional muscle mass
*sport and combat applications
Whether you want to compete or not, kettlebell training is great for improving your overall strength, conditioning and athleticism. Plus, it's a lot of fun.
Is kettlebells for everyone?
Yes. Whether you are a novice or advanced athlete, you can use kettlebells for fitness and/or kettlebell sport. The key is finding a qualified, certified kettlebell instructor who will teach you the techniques correctly and safely. Here is a link to the directory of kettlebell instructors certified by International Kettlebell and Fitness Federation: http://www.ikff.net/about/find-an-instructor.html
***
For future reference, I have added a new page on this blog called "Glossary." It contains a glossary of terms related to kettlebells and girevoy sport. I will keep updating the content of this page, including video clips that demonstrate kettlebell movements and lifts.
Do you have a question about kettlebells or kettlebell sport? Please reply to this post – I'd be happy to answer them.
xoxo
Kettle Bea