At Chicago Kettlebell Club, power couple Linda Heap and Mike Salazar have begun competing in kettlebell sport; I will be featuring them in this blog soon! As I go to more competitions, I see more and more couples who compete in girevoy sport (GS), so I thought – why not start featuring couples who lift?
This week, meet power couple Karli & John Harshman, who hail from Spokane, Washington.
I first knew of Karli Harshman when I saw a video of her competition set — at 32 weeks pregnant! (See her video at the end of this post). One day, during a conversation with some of my female athletes, the topic of GS training while pregnant came up. I then showed them Karli's video, and of course, they were instantly inspired. I then met her husband Johnny in an Orange Kettlebell Club (OKC) competition earlier this year, where he was equally inspiring on the platform. He was also one of five Americans who represented Team USA as they competed against Team Russia in an epic Jerk Relay event.
As you will see in this interview, both Karli and Johnny are strong, beautiful, and fun as individuals and as a couple. I am so excited to see them rock the platforms and finally see Karli lift in person this Saturday, August 2nd, at OKC's competition in Oakland! Enjoy this interview 🙂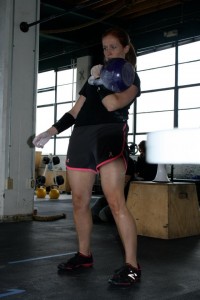 KARLI HARSHMAN
Dental Hygienist & Mom
Event: Long Cycle
Coach: John Harshman (Husband)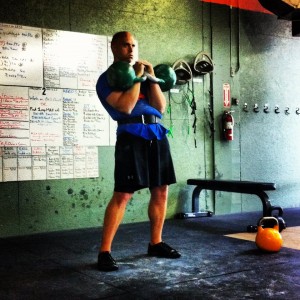 JOHN HARSHMAN
Health and Wellness Director, North Spokane YMCA & Dad
Events: Biathlon, Long Cycle, Marathon Events
Coach: Jason Dolby
1. How did the two of you meet?
Karli:  He caught my eye in the cafeteria my freshman year of college. He and his buddy were flirting with me and my friend.  Once I found out all his roommates were soccer players I worked my magic to befriend a few of the guy soccer players and soon I was hanging with his crowd.  Once I convinced him I was a good cook (I lied), wore no makeup (he complimented me on how good I looked without makeup, when in fact I had some on) and was not emotional (I did all my crying behind closed doors), he decided I was a keeper.
Johnny: I like to tease Karli that I was a stalking victim.  She just always seemed to show up where I was 😉  In reality we met through mutual friends in college.  I still remember the first time I saw her…I was a junior, she was a freshman; we were at a beginning of the school year barbeque.  She caught my eye, I thought she had a nice butt.  A short time later, we both happened to be walking towards each other on a sidewalk.  I thought I'd make eye contact and say "hi," but she just stared on the ground.  She was on our colleges soccer team; most of my roommates played soccer as well, so I ended up watching a lot of her games.  Eventually we both ended up on an intramural soccer team together.  One game she broke some guy's ankle when they both went for the ball.  At that point, she had my heart.
2. When did you both start girevoy sport? Who was the first one, and what was the turning point for the other to start lifting?
Karli: Johnny got started early on; after my first baby I wanted to find something new to do to get back into shape, so he taught me GS movements.  We didn't make enough money at the time for me to join a gym so our garage became my gym; kettlebells were perfect for such a small space.  I remember someone once telling me that a marriage will flourish when you find a hobby you enjoy doing together.  It was kettlebells, paint gun adventures or video games.  Kettlebells sounded much more productive.  I enjoyed my husband's excitement as I joined in on the fun.  It wasn't until after my first competition, four years later, that the passion began.
Johnny: I was the first one in our family to pursue GS; my first experience with kettlebells was in 2006.  I viewed a Crossfit video where they were doing snatches; I thought it looked fun and wanted to do it too.  I bought a 24kg bell and proceeded in my first attempt at snatches, ripping all the calluses off the palms of both hands.  Fast forward to 2008, I went to an AKC Coaches Cert in Bellingham, WA.  I met Marty Farell, Kevin Jodrey, Tom Corrigan, Misha Marshak, Brad Jones, Valery Fedorenko, etc.  At this point I was hooked and knew I wanted to compete.  At the cert Misha stood in the corner and jerked a 16kg bell for an hour straight, non stop; this was my inspiration to try marathon events.
3. Describe what it was like to step on the platform for the first time.
Karli:  Even though I had been working with competition bells for four years, I knew little of what a competition was like.  I basically did my first competition because my husband was as well and I wanted a kid-free weekend getaway.  I didn't expect to feel as nervous as I did.  The whole morning my body was full of nerves.  When I went out to do my set I was surprised at how quickly I fatigued, probably from inefficient technique and being too tense.  I came away from the competition not feeling failure that I didn't reach my CMS goal with the 20kg in LC, but with an intense craving to go home work out my technique and whoop up at the next competition.  I was driven from that point on.  I didn't need my husband to convince me anymore, I just needed him to coach me.
Johnny: Karli's and my first comp was the IKFF Northwest Invitational in 2012.  Like everyone, I was a little nervous, but I didn't find it overwhelming.  I just wanted to make my coach (Dolby) proud.  That day I fell in love with the GS community; the sense of community I experienced and the genuine excitement everyone had for their fellow lifters captured my heart.
4. What motivated you to become a GS lifter? Why do you lift?
Karli: As a collegiate athlete I have a deep competitive nature.  When I found GS, I saw it as something I could compete at as I mature and still fulfill that competitive urge I have.  I also fell in love with the GS community.  The people make it a sport I want to keep pursuing.  Even if they don't know it, they drive me to become better.  I look forward to competitions like I look forward to Christmas or my birthday.  The day is filled with excitement and many emotions; each lifter has endured for months on end striving to get better, each leaves it all out on the platform and the crowd goes wild!  Whether a beginner lifter or an experienced veteran, I have an overwhelming sense of pride for each lifter and all they've accomplished.  Strangers become family even if GS is all we have in common.
Johnny:  There was a long gap between the AKC cert I attended in 2008 till my first comp in 2012.  During that time we had two of our three boys, finished grad school, moved, got a new job…we were busy, busy, busy.  I trained GS off and on, always knowing some day I wanted to make it to a comp.  In 2011 life had slowed down a little and I knew it was time to compete.  I was gonna go down and take part on the One-Hour Long Cycle Event for Japan in 2011 and attend the IKSFA course following.  For the One-hour Long Cycle I wanted to use a 28kg and shoot for 600 reps; at that time I contacted Jason Dolby to see if he had any advice on how to prepare for that.  I still remember our first conversation, I could hear in Jason's voice the passion and enthusiasm he had for GS.  At that point I knew I wanted him to be my coach.
Why do I lift?  It's funny after all these years of training GS on and off again, my heart is always pulled back to it.  I think a big part of it is the GS community, more importantly the OKC (Orange Kettlebell Club) crew.  Despite the fact we come from different walks of life, we have one thing important, we love GS.  Because of our love for GS and our love for each other, we will travel across the globe to support each other and lift an iron ball.
If you are around the OKC you may hear the statement "we bleed orange."  An example of this, when Joey was two days old the doctor(s) found that he had a heart condition that required emergency open heart surgery or he wouldn't survive; it was with out a doubt the scariest 24 hours of my life.  Many of my OKC friends reached out to offer their support.  John Wild Buckley told me all I had to do was say the word and he would fly up to be with us.  He was more than willing to come at the drop of a dime to help a friend in need.  Jason Dolby checked in with me daily to see if I needed anything.  Cyn Diesel offered to buy us groceries.  Ken Black and I conversed often about his own personal loss of a son and how he dealt (and continues to deal) with it.  These acts of kindness and selflessness are just a part of why I am proud to wear orange.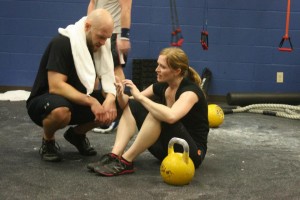 5. What is your athletic background?
Karli:  I played soccer from first grade up through college.  My biggest critique from coaches when I was younger was I needed to be more aggressive.  I had a quiet competitive nature.  I was sweet and kind but once I got into the game I was secretly shoving and tugging jerseys and hoping to take down the other team.  If I fouled someone I said "sorry." I wanted people to like me but I also wanted to win.   I guess I had a little Dr. Jekyll and Mr. Hyde going on.  Even at the gym, if you are running on the treadmill next to me I'm secretly trying to beat you.  I'm not sure why I'm like this, but it just goes to show you I am competitive even if I'm quiet about it.
Johnny:  Since Karli probably won't tell you the specifics of her athletic accomplishments I will.  Karli will admit she was a college soccer player, but what she won't say is that she was three-time All-american and the Division III National Player of the Year.  She still holds many scoring records where we went to school and was inducted into the university's sports hall of fame.  Enough about her….
As for me, I dabbled in football and track in high school, but the reality is organized team sports isn't for me.  For the most part, I just want to have fun and when things get too serious, I wanna get out.  I've been involved in a few different martial arts (karate, American kickboxing and krav maga) along the way, but again, things got too serious for me.  For the most part, my athletics involved plain old recreational activities.  My friends and I were pretty heavy into roller blading and roller hockey in the '90's (side note, Airborne is a FANTASTIC movie).  We also spent a significant amount of time snowboarding in the winter and surfing in the summer.  To me, if it's not fun, it ain't worth it.
6. What is your nutrition like?
Karli:  Being an athlete growing up I was told to always carb load the night before soccer games.  I developed unhealthy binging on carbs and pretty much could eat whatever I wanted and burn the calories on the soccer field.  When I gave birth to my first child and I had to lose all the weight I put on, I realized my nutrition was lousy.  I am addicted to sugar, specifically anything chocolate.  Now after three kids and trying to lose weight with each pregnancy, I've developed a much better diet.  I still allow myself chocolate every day if I want but I've cut out unnecessary foods that don't fuel my body.
Johnny:  I eat pretty healthy during the week, but I'm notorious for my epic binge sessions.  As I've matured in age (37 years old) I've realized I can't splurge like I used to; I try and keep it to a minimum.
7. Can you share your favorite healthy recipe?
Karli:  My current favorite is homemade Lara bars.  This specific recipe tastes like a brownie. Take all ingredients and blend it in a food processor, magic bullet or blender.  Then press into a glass 8×8 pan, place in refrigerator until cooled and hardened.  Cut into bars.  You can adjust the kind of nuts you use or even add shredded coconut, chocolate chips, dried fruit….their are endless varieties.  You can perfect your favorite bar based on these ratios of nuts and dates.
*1 cup walnuts
*1 and 1/3 cups pitted dates
*1 tsp pure vanilla extract
*3-4 tbsp cocoa powder

Johnny:  A smoothie I enjoy is infamously called, The Green Goblin.  It consists of: two cups spinach, two cups parsley, two bananas, two cups strawberries, one tablespoon of flax oil, sometimes a raw egg or two, two cups of coconut milk and plant-based protein powder (no dairy or soy  for me).
8. What is life like outside of kettlebell sport? What are your hobbies? How do you balance these with training for the sport?
Karli:  My life outside of kettlebell is my family; raising my boys with my husband.  It's hard to define my hobbies.  I feel like my hobbies are my kids.  They keep me around-the-clock busy.  When I take time for myself it involves a zumba class, coffee with a friend, alone time with my husband, or just alone time where I get to leave the house by myself and go do whatever I want for a few hours.  Training for kettlebell sport is difficult lately being that my hobbies are my kids.  I have to keep the kids busy while I train in our garage. I try and get the baby to nap, and the older two distracted by some activity while I bust out my sets.  It's hard but always worth it.
Johnny:  Outside of kettlebell sport, my life is all about my family.  My hobby (really its my job) is raising my three boys: Jady (7), Jackson (4) and Joey (10 months).  If we are friends on Facebook, you'll know that I coach by boys soccer and baseball teams; we also spend a lot of time at our local amusement park in the summer (Silverwood).  But one thing I am absolutely militant about is that once the clock hits 8pm, it is now mommy and daddy time.  Only under a life or death emergency are the boys to bother us.  I get very little alone time with my wife, but it's the most important time of the day.
9. How do you motivate each other?
Karli: Johnny doesn't need any motivation from outside sources to push himself.  If I were to cheer him on during a workout he'd probably tell me to be quiet.  Thankfully we both have a drive to train.  We praise each other's efforts and accomplishments after a training session.  It's nice to know my husband, who is also my coach, appreciates my hard work.
Johnny:  Honestly, other than writing Karli's programs, I just try to stay out of her way.  Before we had kids, the only time we argued was when we worked out together.  For some reason, she just doesn't like me telling her what to do 😉
 10. What is one of your greatest accomplishments in the sport? In life?
Karli:  In the sport, I have reached CMS with the 20 kg in LC.  My next big goal will be MS with the 20kg in LC, but I also want to appreciate the PR's that come in between both goals.  In life, my greatest accomplishment is my family or what I call "my gifts from God," which include my three boys and my husband.  I am beyond grateful for these gifts.
Johnny:  In sport I'm happy that I've put up decent numbers in LC 24kg (98), Biathlon 24kg (208) and One-Hour Long Cycle 28kg (581).  And while it's not really an accomplishment per se, I did break my arm in training.  You know the saying, "Your mind will give up 1000 times before your body does"? Mine didn't.  Though it was stupid of me to not stop from the pain, I still pushed through.  But dang you, Dolby, for not turning the camera on!
In life, my greatest accomplishment (yet to be fulfilled) will be to raise three men who love Jesus, have a servant's heart and are passionate about helping those around them.
11. Can you share your favorite motivational thought/quote?
Karli: "If you take each worry/stress/complaint you hold and find some way to rephrase it into thankfulness, I guarantee your heart and mind will be lighter and more joyful." -me. This simple technique has helped me overcome panic attacks.
Johnny: My friend once said, "Serve your spouse, or be miserable."  Ain't that the truth.
12. What is one thing about you that most people would be surprised to know?
Karli:  I can be mean!  Unfortunately only my family knows that.
Johnny: I love musicals.  John Wild Buckley still gives me a hard time that I didn't go to a competition because I had tickets to Rock of Ages.
13. Quick – if there is one person you would like to interview, who would it be? What question would you ask them?
Karli: I didn't want to have the same answer as my husband on this one, but I have to go with God as well.  I'd ask him about some of the "why's" of life…the good and the bad, some specific to my own life as well as others.
Johnny: God.  I have a lot of questions to ask.
14. Do you have a next goal? What keeps you going?
Karli:  I want to get MS with 20kg in LC and then move into the 24's.  I love training with the bells, so that's what keeps me going.
Johnny:  I want to move into competing with the 32kg bells.  I've been injured a few times a long the way, but I got some unfinished business with 32kg Long Cycle.
15. Any advice or message for couples who lift bells? For the GS community in general?
Karli:  If you're on the fence to join your spouse in the sport, then I say give it a whirl; there's a good chance you'll fall hard for it and fall harder for your spouse as you cheer each other on.
Johnny: What is your goal?  Every time you pick up a kettlebell, barbell, dumbbell, go for a run, complete a WOD, etc, it has an effect on the body.  If your goal is to be the best GS athlete you can be, then you need to structure your training with that goal in mind.  Find out what limits you from doing your best and fix it.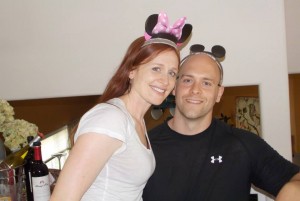 Watch Karli in action.
https://www.youtube.com/watch?v=fRjf446fBck&list=UUSyvTG-M0qgs4lL71UpI37g
Watch Johnny in action.
https://www.youtube.com/watch?v=g0GPFp8ZteQ&list=UUSyvTG-M0qgs4lL71UpI37g
Have a great week!
xoxo
Bea