Meet Master of Sport Juliet Lederle, Orange Kettlebell Club (OKC) Head Coach and Juno Fitness Owner/Ass Kicker! I was thrilled to meet her last summer when I visited her studio in San Francisco; I was on a business trip and needed to squeeze in my last girevoy sport set before flying back in time for my second-ever competition in Chicago. John Buckley, her coach and OKC Founder & Owner, happened to be there as well, so I was doubly thrilled! John gave me great feedback about my clean, breathing, and rack position; while Juliet showed me the importance of hip drive in snatch. I was at their space for less than an hour, but their generosity and expertise made a lasting impact on me. Before I left, Juliet gave me the warmest, most genuine hug. She is one of the best huggers I know! John, meanwhile, is one of the people instrumental to helping me start Chicago Kettlebell Club; he offered ideas and encouraged me to pursue my desire to grow a kettlebell sport family here in Chicago.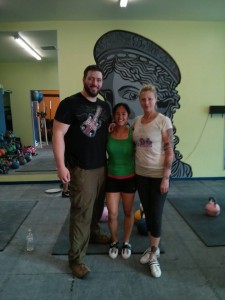 John Buckley, Me, Juliet Lederle – June 2013
Juliet had also mentioned that one of her athletes, Nathan MacBrien, was moving to Chicago that summer. I immediately connected with Nathan once I returned to Chicago; we became friends and he is now a familiar face at Evolution Strength & Conditioning, where Chicago Kettlebell Club practices and conducts classes. In June 2014, to support Nathan and to compete herself, Juliet made the trip to Chicago! I already knew that she was a great coach, but what deepened my appreciation and respect for Juliet was when she agreed to stand in for my coach Ken Blackburn, who couldn't make the competition. It was my first time competing with the 20kg bell, and Juliet's presence made a world of difference. Her cues, encouragement, and calm voice — along with the support of CKC team — carried me through my 10-minute set. She and Nathan (Biathlon) rocked the platforms; Juliet and I even teamed up with three other women to participate in a fun jerk relay competition against a team of men. Check it out here.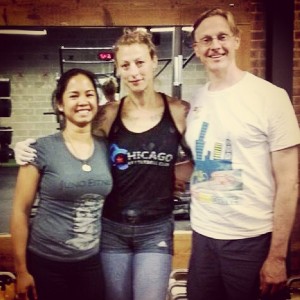 Me, Juliet, Nathan MacBrien – June 2014
The more I get to know Juliet, the more I am amazed at her authenticity and badassery. She is, simply put, hella amazing. Enjoy this interview!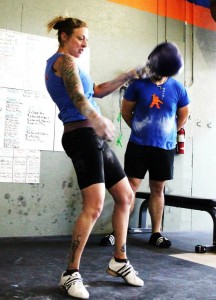 JULIET LEDERLE
owner, juno fitness-head coach orange kettlebell club
Event/s: snatch only right now, ms in biathlon and long cycle
Coach: john wild buckley, orange kettlebell club
1. How did you find out about GS/kettlebell sport?
a friend of mine told me about it, i thought it was the stupidest thing ever (who does that???) then i met john wild buckley and my life changed.
2. Describe what it was like to step on the platform for the first time.
i loved it. i am made for it. i do best in competition, mostly.
3. When did you start lifting kettlebells?
june 2009
4. What motivated you to become a girevik? Why do you lift?
by nature, i'm not graceful but as soon as i picked up a bell i fell in love with the sport. the grace, the difficulty of all the lifts. i lift because of the challenge of getting better, it is never easy but also never boring.
5. What is your athletic background?
ha!! i read and did nothing until i was 34. i started running (old ladies passing me on the track) and that wasn't enough. i joined an intense bootcamp in 2004 and immersed myself in anaerobic training/weight lifting. i also started some boxing, but not my thing.
6. What is your nutrition like?
all.over.the.map. i don't deny myself anything and have a horrible sweet tooth. but i also eat really well (in between bouts of sugar filled snacks dumping into my mouth), grassfed meats, organic fruits and vegetables. i'm a huge fan of red meat, and eat a lot of it.
7. Can you share your favorite healthy recipe?
hmmm….i eat pancakes EVERY DAY. so i will share that recipe. it's easy and delicious; this is for about 13 pancakes.
2 C white unbleached flour (oooooo…sonotpaleo)
2 t baking soda
1 t salt (i use kosher)
2 C (just about, maybe a smidge more) room temperature whole buttermilk, low fat is ok but i prefer whole. don't worry if it's not room temp, it's fine either way, but the butter mixes better if it is.
2 eggs-i always use pastured large eggs, local chickens. i'm such a snob.
2 T unsalted butter-melted
(add berries or…yum…cooked bacon crumbles as desired)
mix dry ingredients in a large bowl. in a smaller bowl whisk buttermilk and eggs together, just enough so they are mixed, whisk in melted butter. add to dry ingredients. using a large wooden spoon, mix the batter. there will be lumps, this is normal. don't overmix.
heat an iron grill pan (grill thingies down, flatside up) to med/low. brush pan using bacon fat or ghee cook away!!! the beauty of these pancakes is you can make a ton, put the leftover cakes in the fridge and re-heat in the microwave throughout the week.
8. Who is your GS hero or heroine?
ksenia dedyukhina-her snatch is amazing.
9. What is life like outside of kettlebell sport? What are your hobbies? How do you balance these with training for the sport?
i spend a lot of time with my son and husband. i read like a maniac. luckily i own a gym, so training is easy to balance with life.
10. What is the most challenging aspect of being a lifter?
the grueling training, the feeling of "almost getting it".
11. What is the most rewarding aspect of being a lifter?
the same as the challenging aspects: the grueling training, the feeling of "almost getting it" and those aha moments when it all comes together.
12. What is one of your greatest accomplishments in the sport? In life?
achieving master of sport in both lifts. overcoming a crippling 20-year drug addiction that led to homelessness and despair.
13. Can you share your favorite quote/motivational thought?
"do. or not do. there is no try." – yoda
and when i'm competing or training a lot of crap goes through my head, i counter it with "what's the WORST that can happen? just 10 more reps…."
14. What is one thing about you that most people would be surprised to know?
shit, i'm an open book. um….i started exercising because i have HepC and wanted to be as healthy as possible. I went through 48 weeks of debilitating treatment and cleared the disease.
15. Quick – if there is one person you would like to interview, who would it be? What question would you ask them?
good question! and i don't have an answer. my first thought was buffy the vampire slayer. but i don't know what question i'd ask her. and she's not real.
16. Do you have a next goal? What keeps you going?
yep, master of sport in snatch with the 24k bell. the beauty of lifting, it's one of the most graceful, yet grueling sport i can think of. maybe ballet compares…
17. Any advice or message for the community of kettlebell sport lifters and coaches?
lifters- PACE, PACE, PACE. don't quit, if i can do it? you can too! gah, that's cheesy.
coaches?- coaching is a two way street, be mindful and empathetic of your students.
Watch Juliet in action. Here is her snatch set with 20kg that earned her Master of Sport in November 2012:
https://www.youtube.com/watch?v=Ijkz_E1o0no
And here's a bonus pic 🙂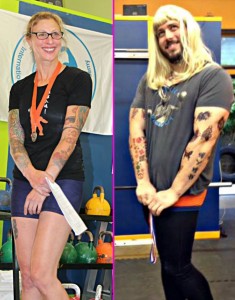 Have a great week!
xoxo
Bea