In October 2014, after learning about the worldwide One Hour Long Cycle Charity (1HLC) Event from its founder Jason Dolby (President of Dolbystyle and a Head Coach of Orange Kettlebell Club), I decided to organize one in Chicago, with the intent of bringing lifters together in the spirit of solidarity and charity. It involves lifting a kettlebell (clean and jerk) for one hour straight, whether solo or relay style. Participants lift at the exact same time, wherever they are in the world, and can choose to donate any amount, with 100% of donations going directly to the chosen charity. Although 2014 was the fifth annual 1HLC, it was the first year that Chicago represented in this worldwide event. We made history as we lifted at the exact same time with hundreds of other lifters in 70 other satellite locations in 15 countries, raising funds for those affected by autism.
Since then, it has been Chicago Kettlebell Club's (CKC) annual tradition to participate in 1HLC. This year is especially meaningful to me, as we will be lifting to raise funds for Walk With Sally, a nonprofit that mentors children and families affected by cancer. This past May, my dad passed away after a five-year battle with cancer; I will be lifting in his honor, and hope to reach Team Chicago's goal of raising at least $1,000 by October 21, 2017. In addition, CKC will be donating the Kettlebell Lifter's Manifesto Wall Art to the top fundraising team and individual. If you can't join us that day but would like to support our efforts, please consider donating any amount here: click "Join Team."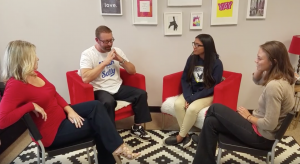 The global fundraising goal is $100,000. If you would like to help us reach our goal, contact Jason through his website.
Enjoy learning more about him in this interview! Find out how he trained for the very first 1HLC, becoming the first person in the world to last one hour straight performing the Long Cycle movement with double bells; what motivates him and how he has motivated 700+ lifters in 15 countries to lift for a cause; as well as his vision for 1HLC in the years ahead.
BR: Take us back to the beginning, in 2010. How did you come up with this idea?
JD: At first it was just gonna be a potluck with beer. Then I thought about it some more: I was turning 35 and wanted to do something healthier… BUT still do something a little bit insane. So I just had this random idea that I could do double long cycle with the 16kgs for an entire hour, and my friends could just watch me struggle. I thought that would be entertaining. I was inspired by Sergey Rachinskiy, who had these crazy world records. He did single arm jerks with the 24kg in 12 hours and did 5,000+ reps. And he took food only in the 11th hour! It was crazy.
So that was the idea, for three weeks leading up to my birthday. Then, one day while I was training one of my clients, it just popped into my head that this needs to be less about me, and that I can create a way for the event to have some kind of impact. That's when the idea of flipping it into a charity event came to me.
BR: What a unique way to celebrate a birthday — challenging yourself while giving back to others. Which charity did you choose that first year?
JD: I immediately chose Children's Hospital Los Angeles because I had worked with them before. Ronald McDonald House Charities did these 7-day camping retreats for children with cancer. I was one of their camp counselors in 1998. We drove down on a bus and picked up all these little kids. I taught them archery.
BR: You know archery?
JD: Yeah, my dad taught me when I was a kid. My dad was into Native American culture and history, so I grew up playing around with bows and arrows, instead of toy guns. The kids enjoyed it — I was in charge of a cabin of 13-14 year old boys, and that was great… spending a week with them really made an impact on me. Some didn't make it, some survived. But I made sure they had fun, and I enjoyed making them smile. That was so special to me.
BR: That's cool, connecting your special day with something that touched your life profoundly. And doing something that was true to your personality (doing something insane). Have you always been into doing insane things like this?
JD: Throughout my life I've always been into challenging my body to the extremes. Like that cold plunge Buckley and I took in Russia, that was fun. In high school I played football all four years. I'm not a big guy but I liked defending and sacrificing my own body for the sake of helping my team win. I also kept challenging myself in different ways, like "how far can I hike without drinking water?" Things like that. I'm all about creating goals that challenge my body to the very edge.
BR: I remember seeing that video of you and Buckley in Russia. When you were in Russia, did you tell Rachinskiy about your goal of double long cycle for an hour? I know you were the only one in the world to do such a thing.
JD: Yes and he was concerned about me. He said, "Double 20kg? But you cannot switch." And I told, "Well, I'm gonna do it." I challenged him to join my charity event that first year, to try and break his own record with the 1-arm Long Cycle. I think his record was 750 reps with a single 24kg in one hour.
BR: I thought you were going to do Double 16s…
JD: Well, I had already done 20min with the double 16s. I trained for five months leading up to the event, and I realized I wanted to do double 20kgs instead. So I upped the ante.
BR: What was your training cycle like, during those five months?
JD: I started with the 16s. Day 1, I went for 12 minutes straight. I would rest 1 or 2 days in between training sessions. Then I added 2 minutes each session until I reached 45min straight. Once I completed 45 minutes, I moved up to the 18kgs. I didn't have the 2kg increment bells at the time, so I taped weights on the bottom of the 16s. I did the same thing: Day 1, I went for 12 minutes straight, then added 2 minutes until I reached 45min. Then moved up to 20kgs. I tapered and my last workout before the 1HLC was a 20-minute set.
BR: Sounds brutal. How did you feel throughout that one hour at the very first 1HLC?
JD: My game plan was to pace myself. It's about the breathing, as you know. After each clean, I would do 6 exhales before jerking. It gave me somewhere between 5rpm and 7rpm. But you know, at minute 48, there was a problem. I got dizzy, and it felt like everything was closing in, like I was having tunnel vision. Everything was a bit of a blurr at that point, and I stumbled. Next thing you know, Buckley says something to me. Buckley's so good at this — he knows the perfect thing to say to you at the right time. He said, "Hit the one in the middle!" It comes from Rocky! It was exactly what I needed to hear, and that brought me back.
BR: Nice! Going back to Rachinskiy, he accepted your challenge, correct? He was there during the first 1HLC?
JD: Yes, and Sergey Rudnev was also there. Afterwards, I asked Rachinskiy "Did you break it?" His world record, I meant. He said, "Yes" and asked me, "How many did you do?"
I said "262." There was a pause. Then they talked to each other in Russian. He turned to me and said, "This is outstanding." They confirmed that this had never been done before. They said, "You're crazier than Russian people."
BR: I have to agree. Did everyone else lift solo or relay-style?
JD: Everyone did solo, multiple switch, without setting the bell down. There were about 20 of us, it was great… people coming together, doing something that had never been done before with weight training. We started the relay team concept in 2012, to get more people involved.
BR: How much did you raise that first year?
JD: $2,300.
BR: That's great. I know that you choose a different charity every year — how do you choose the beneficiary?
JD: In 2011 it was going to the be the New Orleans Recovery Project, but then, Japan got devastated with that earthquake. Nazo was trapped in a building with her family, and I knew that we had to give to the earthquake relief efforts. We had to do it; it just felt right. We actually have our history on my website, check out the page: http://www.onehourlongcycle.com/bio/
BR: I see that in 2012, you introduced satellite locations in various cities and countries (Japan and Singapore), in addition to introducing relay teams.
JD: Yes — we lifted at the same time, regardless of time zone. The energy was incredible! That was the year we raised funds for the Tuberous Sclerosis Alliance in the name of Anthony Brewer, son of our good friend and kettlebell lifter Howie Brewer. We had a total of 79 lifters.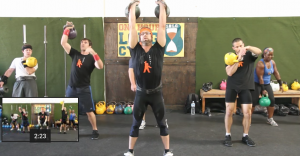 BR: Then in 2013, you raised funds for the Jimmy V. Foundation in the name of James Chang.
JD: In January 2013, my younger brother Damon lost his best friend to cancer. James and Damon were inseparable. They shared a love of basketball, laughter, and great food. When we lost James it was like losing family. I knew at that moment we would lift for those who have battled cancer or were currently in the fight. That was also the year that I made a promise to James's family that I would attempt to lift 2x24kg kettlebells for one hour as an ode to a lost brother.
Everyone has been touched and affected by cancer in some way, whether first-hand experience, or through a friend or family member. I knew the world would pull together for something special. We had satellite locations all around the world, and special people lifting for their loved ones with all of their hearts. This was really the first year that having a home base location dissipated. From there on out, the 1HLC would just have Earth as its home base! Perfect.
BR: Lifting 24kgx2 for an hour is probably one of the hardest and craziest things anyone has ever done in kettlebell lifting. Can you tell us what was going through your head during that set?
JD: That year, 30 minutes in, I knew I was in real trouble. I didn't have anything left in me. But I made a pact with James's family. I told them, "I'm gonna do this for your son and your brother James." I had to do it. At 30 minutes, I wanted nothing more than to drop the bells. I felt like I was drowning, like I was underwater, I had heart palpitations. From minutes 30 to 43, it felt like it was the most hell I had ever been through. I don't really remember that period of the set. Discomfort, pain, agony — it was just a bizarre state. It was so painful and felt wrong. But I kept thinking about James. I told myself, "You drop these bells, you disrespect James." But I knew this kid. Such a good guy. I knew James would forgive me if I dropped the bells. And knowing that didn't help. I still had a little bit of conscious awareness, so I created a story in my head: if I drop these f***ing kettlebells, all of mankind is dead. But if I'm able to stand here — whether I die or not — everyone else lives. I was so out of it. I told myself, if I have a heart attack, they can probably bring me back. If I die, it's cool. I'm gonna save the f***ing planet. They can probably bring me back, because my body is strong. I just surrendered. I'm sure if I didn't make up that story I would not have finished.
And then, after minute 43, there was a relief. The demise is close. I was committed to see it through the end. The agony remained, but the stress in my mind was reduced. Here's the interesting thing: all of a sudden I could hear a little bit of music coming from the the speakers in the gym music, it was the Braveheart theme song, my favorite movie of all time. I couldn't quite make it out at first, then I hear it faintly, "Gift of a Thistle." Somehow, miraculously, the next song that came on was "The Game of Thrones" theme song! There was a charge through my body. I could feel my focus coming back. That's when I looked over at Buckley, who was sitting in the chair, counting my reps. He said the most perfect thing to me at the perfect time. He's the greatest at this sh*t. He looked me in the eye:"It's getting thronesy in here, Chu-hu!!"
I nodded my head. I felt this charge — like I was in a battlefield. I consciously looked up at the clock. My focus was on the clock. I thought, ok, 2 minutes left, until 5min left, then I'm home free. I can finish the last 10 minutes dead on my f***ing feet. It's only 10 minutes! I don't give a sh*t. My confidence came back. I knew I was gonna finish. The last 10 minutes, I was riding home now, battle's over. I was destroyed, there was spit on my face. At the end, my total was 154 reps.
BR: Wow. Interesting to hear the mental journey. Good thing they didn't need to rush you to the hospital. Were you physically ok after that day?
JD: I lost feeling on my right thumb and right index fingers for six weeks. But I didn't panic. I knew nerves can regenerate. My hands still work; the important thing was that I finished it for James. I had to do it because I wanted to make an impact, to inspire others. Buckley always says anyone can write a check, but sacrificing a little — or a lot — of sweat, tears, and effort can be even more meaningful. And I agree.
BR: Which takes us to 2017: this year is especially meaningful to me, as I lost my dad to cancer just a few months ago. I'm looking forward to lifting and raising funds in his honor. Why did you choose Walk with Sally?
JD: Recently, we lost a good friend to cancer, Jase Nibourg. He was a private trainer, grew up in martial arts, and he would travel to people's homes to train them. I knew he had two children he left behind, and I especially felt for his 11-year-old daughter, who was left to find her own path. I promised him I would check in with her every now and then. One of my students Sam had randomly mentioned Walk with Sally as an option for the next 1When I found out about what Walk with Sally does — free mentorship for kids who have lost someone to cancer —  I felt a powerful swirl in my stomach. My interview with Emily shows how impactful this nonprofit is: https://www.facebook.com/OneHourLongCycle/videos/1628169437225174/
BR: It's awesome that 100% of donations go directly to Walk with Sally. Tell us the fundraising goal and how we can help.
JD: It's $100,000, our biggest goal yet. This year we have a new fundraising platform, super easy to use; people can create teams and this helps us easily track our donations and number of satellite locations. The platform accepts different currencies, so anyone in the world can donate. And the top fundraisers get prizes from our sponsors!
BR: Thanks for sharing your story with us. What's in store for 1HLC in the years ahead?
JD: Right now we have over 700 lifters worldwide, in about 15 countries. My dream is to keep growing that number and expanding all over the world. There's really something special about everyone starting at the exact same time, and setting the bells down at the exact same time. We are all lifting with you, struggling with you, for the cause. That's powerful, and I want to keep multiplying our impact that way.
LINKS