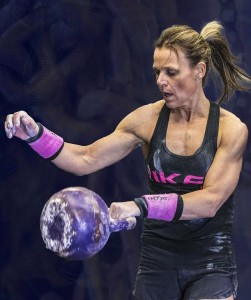 DONICA STORINO
Point Pleasant Beach, New Jersey
Fizikelfitchick
GS sport coach, Inspirational Life & Fitness Coach
1. How did you find out about GS/kettlebell sport?
I took a IKFF Level 1 CKT with my current Coach Ken Blackburn and Steve Cotter. Ken introduced me into the sport.
2. Describe what it was like to step on the platform for the first time?
I was terrified. I must have went to the bathroom 10 times! I made CMS which was totally crazy — I just let the nerves work out and finally found my groove.
3. When did you start lifting kettlebells?
2003-2004
4. What motivated you to become a girevik? Why do you lift?
I love the mindset challenge aspect. I thought to myself: this is so hard, it's painful, it's defeating, it's joyful. I lift to inspire others! It's a gift I have been blessed with.
5. What is your athletic background?
I was a swimmer; I've competed in some Olympic weightlifting, Muay Thai (highest rank), BJJ. I enjoy strength and body weight movements, stick fighting, self-defense, knife fighting, systema, hardstyle kettlebells and GS.
6. What is your nutrition like?
I eat very clean. I try to eat one ingredient meals (i.e. Chicken, broccoli & sweet potato). I rarely drink alcohol. I believe in eating to fuel the body with a treat every now and then. If you consume 42 meals a week, a burger or beer is not going harm all your discipline. "Learn to live, live to learn."
7. Can you share your favorite healthy recipe?
My new favorite is compliments of my great friend Lisa Balash "The Kettlebell Bombshell"
Kettlebell Bombshell Pancakes:
It's so good it ridiculous!
8 oz egg whites 1 whole egg
1/2 cup uncooked oats
1/2 cup flap jacked powder
1 med cooked sweet potato
Cook with Pam
8. Who is your GS hero or heroine?
Oh man, I love all the ladies on The Summit Panel. Also, Sergey Rudnev and Mitch Blackburn to name a few. There are more!
9. What is life like outside of kettlebell sport? What are your hobbies? How do you balance these with training for the sport?
I have three boys who are very active in sports; I teach workshops; and I love to read the bible by the beach first thing in the morning with a cup of coffee. I started learning how to surf which I totally suck at right now, but I wasn't the greatest at first in GS either. I am enjoying a bodybuilding type of training and fun conditioning. Training for sport is as fun as surfing, to me. If I am running my boys around somewhere I just bring my bells!
10. What is the most challenging aspect of being a lifter?
The dedication, discipline, diet and will!
11. What is the most rewarding aspect of being a lifter?
Inspiring someone!
12. What is one of your greatest accomplishments in the sport? In life?
The achievements and ranks I have accomplished in GS, but more importantly when my students do well. It's more rewarding than any rank.
In life, my three beautiful boys!
13. Can you share your favorite quote/motivational thought?
"I can do all things through Christ which strengthens me."
Philippians 4:13
14. What is one thing about you that most people would be surprised to know?
People are surprised I am so approachable. Craziness! And I can dance!!
15. Quick – if there is one person you would like to interview, who would it be? What question would you ask them?
Jesus! I would ask what is my next step. Where or what would you like me to do?
16. Do you have a next goal? What keeps you going?
My next goal is 2×24's for 5′, I know with time and training I could do 10′ but my body is just too small. I am not interested in those heavy weights right now… I want to fast and furious. Passion and purpose keep me going. I believe my purpose is to inspire people.
17. Any advice or message for the community of kettlebell sport lifters and coaches?
Oh dear! Yes, my advice would be to accept and encourage each other. Coaches, take your athletes from the victory not to it! My Coach Ken Blackburn should give courses as he is the most amazing coach on the planet (before y'all get your panties in a bunch, this just my opinion). He encourages, pushes, pulls back, he knows when to get tough and when to give soothing advice. He has literally talked me out of a horrible workset and made me so eager to tackle the next one, when I was like I am quitting! He's brilliant and I am grateful he is my friend and coach.
Meet and learn from Donica at the Women's International Kettlebell Sport Summit on August 8-9, 2016! She will teach us how to develop an Optimal Mindset during kettlebell training and competitions, and is one of six panelists for the "Journey to Master of Sport" discussion. To learn more or register, go to: www.kettlebellsportsummit.com