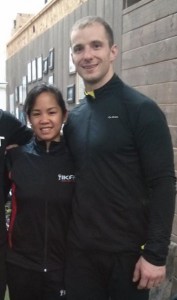 This man needs no introduction, but for those who are not familiar with girevoy sport, meet Master of Sport International Class (MSIC) Denis Vasilev, who lives in Saint-Petersburg Russia. I met him this past February at the Orange Kettlebell Club (OKC) competition and sport camp, where he was Head Judge, Coach and Translator for many of the Russian coaches who taught us. Not only did I learn much from him about kettlebell sport; I also learned a lot just from watching the way he conducted himself and treated others with kindness and respect. His sportsmanship, humility, and desire to grow the sport here in the United States — in concert with OKC — have inspired me to no end. A defining moment I remember was when I witnessed what he did right after my friend Chris Doenlen's competition set. Denis had judged Chris's performance; as soon as Chris stepped off the platform, Denis congratulated him and gave him thoughtful, constructive feedback. Although he didn't need to do so, he took the initiative to mentor an athlete he didn't even know, showing his sincere desire to bring out the best in others, and his pure dedication to advancing the sport.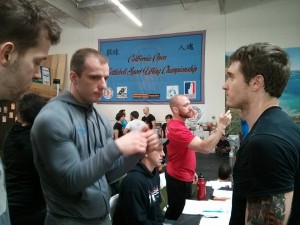 Denis is truly a world-class athlete, coach, and person. It is an honor to feature him through this blog. Cheers to a fantastic year, Denis, and more power to you! Everyone, enjoy this interview 🙂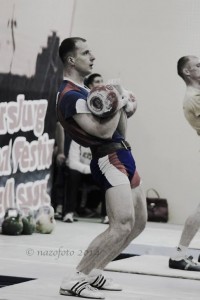 DENIS VASILEV
Deputy Director, EuroFitness GYM
Master of Sport International Class
Member of the Russian National Team (Long Cycle)
KETACADEMY Master Coach
Coach: Sergei Rachinskiy
1. How did you find out about GS/kettlebell sport?
A school teacher invited me to compete in small, local competitions. It was in Kaliningrad (Russia), September 1999.
2. Describe what it was like to step on the platform for the first time.
I was a fighter when I was a kid, not professional, though. The first time I stepped on the platform felt okay and funny, since I was used to stepping inside a ring.
But I was really jittery during my first attempt to hit MS (Master of Sport) rank. It was my first nation-wide competition. It was the Junior Championship of Russia in 2004. I did not achieve MS at that time.
3. When did you start lifting kettlebells?
September 1999
4. What motivated you to become a girevik? Why do you lift?
When I was at school I did not like kettlebell sport,  I tried avoiding the competitions. But every time I competed, I won it. Then, when I became a student in the university, it was not possible for me to continue the training in martial arts. Kettlebell sport was the only chance for me to stay involved in a sport.
But now I love kettlebell sport. I lift because I love it, I love how my training looks like, I like all exercises that I use. If you know the anthem of bikers, it is 'Live to ride-ride to live." Well, now I can say my anthem is "Live to lift-lift to live." 🙂
5. What is your athletic background?
I was in martial arts for 10 years; arm wrestling for 4 years; and powerlifting/bodybuilding for 4 years.
6. What is your nutrition like?
Breakfast: porridge or scrambled eggs, fruits, brown bread, cheese, hot tea or coffee
Lunch#1: any kind of soup (Russian soups – "borsh," "shi"), any kind of meat or fish or chicken (does not matter how it's cooked, but if it's boiled it's better), any kind of fresh greens, brown bread, cheese, hot tea
Lunch #2: totally same with Lunch #1
Dinner: scrambled eggs or boiled eggs, curd, cheese, any kind of fresh greens, hot tea
7. Can you share your favorite healthy recipe?
Very simply: Boil blend fish, boil blend rice with olive oil, fresh greens, tomato, dill. I can eat it everyday and it always makes me  happy 🙂
8. Who is your GS hero or heroine?
I'm very impressed with Ivan Denisov and Johnny Benidze. For me they are great examples of success, achieved by smart and hard work. Their technique is very rational, so right and relaxed (they have perfect feel of their body and the bells with their arms). They always train, no excuses.
But the moment I started to really respect and become interested in kettlebell sport is when I saw, for the first time, Eduard Ahramenko. For me he's the "hero," the "icon," the way a kettlebell champion should look like.
9. What is life like outside of kettlebell sport? What are your hobbies? How do you balance these with training for the sport?
Fifteen years ago kettlebell sport was my hobby – now it's my life. In the gym where I work, there are a lot of kettlebell lifters and kettlebell classes. My wife is MS, a professional KB lifter. Generally, all of my friends are kettlebell lifters. I love it, I enjoy it, and I thank God for making it real. I am not tired of it at all.
I love nature and animals. And I can say that's kind of my hobby. I never miss the chance to go/drive to beautiful wild outdoors (or somewhere where there are not a lot of people), places to enjoy the sea or forest. No matter what, all kinds of nature is beautiful.
I like to ride horses but it has not happened often. When I  get my own house I would like to have a dog – a Shepherd probably – clever, dexterous and strong dog 🙂
10. What is the most challenging aspect of being a lifter?
You have no chance to say "that's enough." Never. Never in the middle of the set, in the middle of training, in the middle of the week, in the middle of the training cycle and so on …never, if you want to get what you want, to be able to do your best. The moment you say never, you'll lose immediately.
11. What is the most rewarding aspect of being a lifter?
The moment you get what you want after all the days, months, years that you spent in trainings (MS, MSIC, 1st place in competition).
And for myself, the most rewarding is stretching time! After your set, GPP (general physical preparedness), running, you get really sweaty and tired and hot, and you've earned the right to relax and stretch your muscles!
12. What is one of your greatest accomplishments in the sport? In life?
In life, it is my sweet daughter Maria and, of course, my lovely wife Aleksandra 🙂
In sport, for now it is my 90reps and 1st place in World Championships 2013. (See his video below).
13. Can you share your favorite quote/motivational thought?
"No time to cry."
Life is not easy, sometimes there are troubles, sometimes we're not ready to go, but in sport and in life – it is always the same story: if you stop or give up, you lose. Always smile and always go forward no matter what.
14. What is one thing about you that most people would be surprised to know?
When I was in school, while I did martial arts training, I was also studying in a painter school and I have a painter school diploma (4 years long education). My favorite subject was "sculpture." Even some of my sculptures from claw and wood was shown in some local exhibitions 🙂
15. Quick – if there is one person you would like to interview, who would it be? What question would you ask them?
Arnold Schwarzenegger. What was the most difficult decision/period in your life before you turned 40 years old?
16. Do you have a next goal? What keeps you going?
After the Championship of Europe 2014 and my 90reps+3 no counts I believe that I am capable to do 100reps. This kind of goal will be enough for the rest of my sport career I think 🙂
That really keeps me going. I do not think about which place I get, I do not think about the rivals, I only want to do my best.
17. Any advice or message for the community of kettlebell sport lifters and coaches?
It never will be easy. Every single training and every single competition will be hard, but do not give up, never stop. Work hard, work well, never lose the training and you'll get what you want for sure. But choose realistic goals first. That will make you respect yourself.
The main thing for coaches is, in addition to general knowledge, is to have patience and respect for students. Plus the coach should always feel responsible for the health of his students. Students should be healthy, first of all. Coaches should understand that the students' health should not be sacrificed for sport victory.
Watch Denis in action. Beautiful to watch! Here he competes at the 2013 World Championships in Tyumen, Russia:
https://www.youtube.com/watch?v=WcvVygTRVsY
Have a great week!
xoxo
Bea