Meet Clara O'Connor, kettlebell sport athlete and proud member of the National Irish Team. Although we have never met in person, she has inspired me and my team as we watched a video of her snatching a 24kg bell at competition earlier this year. She also managed to inspire me this week with one of her favorite motivational thoughts, which she shares in this interview. Perhaps when I visit family in Ireland next year, I'll have a chance to lift with her! Enjoy this interview 🙂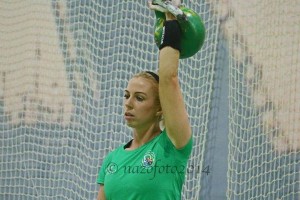 CLARA O'CONNOR
Wexford Kettlebell Club, Ireland
Coach: Mick Kelly, Wexford Kettlebell Club & Head Coach of the Irish Team
1. How did you find out about GS/kettlebell sport?
Through my trainer and coach Mick Kelly.
2. Describe what it was like to step on the platform for the first time.
It was exciting. I don't remember feeling too nervous just excited to see what I could do. Of course I went off way to fast in my first set which was Jerk but I slowed down pretty quick for the next set!!
3. When did you start lifting kettlebells?
I started attending classes with Mick Kelly initially in 2011 after I had my daughter Molly to get back in shape. I was curious about the sport but I wasn't sure I knew enough about it or had what it took to compete with a young baby to look after at home. I knew that if I did start in the sport I would want to give it 150%. I did a coaching course with Igor Morozov MSWC in January 2012 and learned a lot about the technique of the sports lifts over the weekend. I felt more confident after this and started training for my first 5 min competition that March. I competed in all three events with a 12kg bell – Jerk – 101 reps – Long Cycle – 70 reps and Snatch 105 reps. I was hooked after that of course!
4. What motivated you to become a girevik? Why do you lift?
Kettlebells are a very good teacher. They have taught me a lot about myself since I took up the sport. They have shown me power inside my body that I didn't know I had. They have taught me patience and also developed mental strength, it wavered there for a while last year & my results suffered but I got it back 😉
5. What is your athletic background?
I have been active most of my life. I played hockey for a number of years in secondary school. I went on to study to become a Fitness Instructor and qualified in 2004. I have taught all sorts of classes over the years but can say without doubt that since finding kettlebells and seeing the results they can achieve and what an efficient tool they are, I have never looked back.
6. What is your nutrition like?
Its pretty good, most of the time! I am conscious of eating a balanced diet of lean protein, good carbohydrates like sweet potato & brown rice, plenty salad, vegetables and fruit. I also use supplements like Omega 3 Fish Oils and the Herbalife 24 Sports Range.
7. Can you share your favorite healthy recipe?
I don't have a particular favorite really, I like to experiment with healthy recipes from different websites, sometimes they work out sometimes I make a balls of them!
8. Who is your GS hero or heroine?
Ksenia Dedyukhina, Oksana Sarvarova, Anastasia Zolotoreva, Melissa Swanson, Jessica Di Biase, all of the ICKB (Ice Chamber Kettlebell) girls. I also enjoy watching the Russian men snatch. I watch lifters from all over the world but the Russian lifters in my opinion are the most efficient and technically brilliant to watch.
9. What is life like outside of kettlebell sport? What are your hobbies? How do you balance these with training for the sport?
To be honest I don't get a lot of free time between work, teaching classes and training. Any free time I have is spent with my husband and daughter at home, sometimes we go out for something to eat or for a walk on the beach by our house and just try to chill out.
10. What is the most challenging aspect of being a lifter?
Definitely juggling work, home life and training/competing, its challenging and exhausting so that is why I think it is important to have a good diet and supplementation in place. I also think when training at this level that alcohol has to be kept to special occasions as it interferes with recovery and energy levels.
11. What is the most rewarding aspect of being a lifter?
Two letters – P.B.!!!! (Personal Best)
12. What is one of your greatest accomplishments in the sport? In life?
Winning a World Champion title in Russia in November 2013 – Snatch 16kg under 63kg Amateur Adult category. Qualifying for the Irish Womens Professional Snatch team in February 2014 and snatching the 24kg bell on the platform next to Ksenia at the IUKL European Championships in St Petersburg in Russia in May this year (something I had only dreamed of previously!). I also achieved my AIKLF Master of Sport Rank during that same set. I was selected by KettleGuard to be one of their sponsored athletes in June 2013 which I thrilled about as I had watched the ICKB girls on YouTube and loved the wrist guards and gear, they are very supportive of my journey and I am grateful for that.
13. Can you share your favorite quote/motivational thought?
It's not a quote but just to share something that helps me when I am struggling. No matter how sh*tty you feel or like you are not getting anywhere just keep turning up to training, keep going through the motions, don't give up. If you get knocked down, get back up and keep going. Sometimes I feel like crap, I can't do it, I'm tired, my technique is crap. This could go on for a week but I tell myself you can't quit just keep going & you will come out the other side again, and I do!
14. What is one thing about you that most people would be surprised to know?
That I have loads of sets of those little pink dumbells in my shed that I used to teach classes with doing bicep curls with while stepping side to side with!!!
15. Quick – if there is one person you would like to interview, who would it be? What question would you ask them?
Brad Pitt – Will you marry me?
16. Do you have a next goal? What keeps you going?
IUKL Master of Sport –  Snatch 24kg – 110 reps – I have mini goals to get me there though (patience!)
17. Any advice or message for the community of kettlebell sport lifters and coaches?
Here is something I realized, it is unimportant what anybody else thinks of your performance or how many reps you get, at the end of the day the only person it really matters to is you, so do it for yourself or don't do it at all.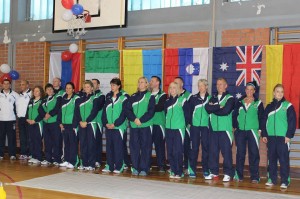 Watch Clara in action. This is her set from the Irish Nationals in February 2014, which qualified her for the Irish Womens Professional Snatch Team. Result: 60 reps!
https://www.youtube.com/watch?v=dE0h_198FAs 
Have a great week!
xoxo
Bea