MORE ABOUT BEA RODRIGUEZ, President
Founder and President of Chicago Kettlebell Club, coaches the CKC Kettlebell Sport Team, and founded the Women's International Kettlebell Sport Summit & Kettlebell Sport Summit. More details here.
As a kettlebell sport competitor, she has earned Candidate for Master of Sport (CMS) in the 10-minute 20kg One-Arm Long Cycle (Clean and Jerk) Event 20kg, Rank 1 in the 10-minute 12kg Two-Arm Long Cycle, and Rank 1 in the 16kg 10-minute Snatch Event.
She believes in the power of kettlebell sport to positively transform the individual; and when individuals can transform themselves, they have the capacity to help transform the world.
Her certifications include:
KETAcademy Kettlebell Sport Instructor Level 2
IKFF Certified Kettlebell Teacher Level 2
IKSFA Kettlebell Sport Coach Level 2
Ice Chamber Kettlebell Performance Coach Level 1
NASM Certified Personal Trainer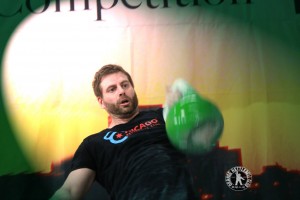 MORE ABOUT JEREMY FRANSEN, PhD, Exercise Physiologist
Dr. Fransen (aka Dr. J) is Exercise Physiologist of CKC and an Exercise Science Professor. A lifelong athlete, he has competed in Triathlon and Strongman events; in late 2014, he discovered Kettlebell Sport and began competing in 2015.
Certified as Strength and Conditioning Specialist, Eleiko Olympic Weightlifting Coach, and Corrective Exercise Specialist, Dr. J has more than three decades of knowledge and experience in training individuals from various backgrounds.
He specializes in functional movement assessment and prescription, kettlebell sport nutrition, and strength and conditioning programs.

MORE ABOUT JAMISON, Group Class Instructor & Certified Kettlebell Trainer
Jamison is a certified personal trainer through the National Academy of Sports Medicine, and a Level 1 certified Ice Chamber Kettlebell Instructor. He is currently studying to attain his specialization in Corrective Exercise. Jamison has been an athlete for over fifteen years playing soccer, hockey, lacrosse, and swimming which have all influenced his style of training that focuses on weight management, muscular endurance, muscular hypertrophy, and agility.
"My philosophy of training is that of a collaborative one. My client and I are working together as a team to accomplish his or her goals that were set at the beginning of our relationship and those that may come along the way. Before we perform an exercise, I want my client to understand the reasons behind the exercises including, what muscles it is targeting, how it contributes towards my client's goals, and the benefits of performing the exercise in a way that is understandable and utilizable for years to come. Open and honest conversation between my client and myself is imperative in obtaining our goals as we strive towards a healthier lifestyle together."

MORE ABOUT SEAN ARMSTEAD, Certified Kettlebell Trainer
Sean Armstead is the co-owner of Phenomenal Fitness, a personal training gym located in the South Loop neighborhood of Chicago. A former U.S. Marine Corps Captain, Sean has received several fitness-related awards, and has over 20 years of personal training experience. His expertise is further evidenced by the numerous personal training, fitness, and nutrition certifications he holds, which include:
Certified Kettlebell Trainer -International Kettlebell and Fitness Federation
Certified Personal Trainer-National Academy of Sports Medicine
IYCA  Youth Fitness Specialist Level One
Fellow of Applied Functional Science-Gray Institute
Facial Stretch Therapist- Stretch to Win Institute
He is a consistently sought-after speaker and guest lecturer on topics ranging from strength development and weight loss to overall health and fitness. In his personal training practice, Sean passionately discovers effective training methods and develops innovative exercise techniques to help each client achieve the highest possible level of fitness while improving structural integrity.  Sean's holistic approach to fitness is attentive to the client's mind, body, and spirit. He subscribes to the belief that all three must operate in harmony if true fitness is to be achieved.
MORE ABOUT APRIL HARKNESS, Ice Chamber Kettlebell Performance Coach
April  is a former Army Reserve nurse who discovered strength training a little later than most. She was involved in the Lindyhop dance scene in Chicago and ran marathons before stumbling upon barbells and kettlebells.
Her wide array of accomplishments include:
-being the worst bowler on her school bowling team;
-winning first place in a  5th grade dodgeball game , because she  had anger  issues from being picked last (she is why dodgeball has been outlawed in most schools); and
-winning first place in a competitive pizza eating contest.
She has also competed in local powerlifting meets, as well as  kettlebell sport meets in Chicago and Novi, Michigan.
Her certifications include:
NCSF Personal Trainer (National Council on Strength and Fitness)
Ice Chamber Kettlebell Performance Certification
Hardstyle Kettlebell Certified Instructor
Moms in Motion Prenatal/Postnatal Fitness
NASM Corrective Exercise Specialist

Her approach to fitness is helping the non-athlete discover their inner athlete. "Everyone's an athlete, you just have to find the right sport! I want you to love the body you are in now, and discover the power that is in all of us, regardless of age, gender, race, religion, size. Star Trek vs Star Wars; Marvel vs DC; Goku vs Superman; etc. Kettlebells are for  everyone!"

MORE ABOUT MELISSA ERLIECH, IKFF CKT1, NASM CPT, CrossFit L-1 trainer
Melissa has been involved with fitness started strength training in her late teens.  She learned the basics of weightlifting from her father who was an Olympic Weightlifter when he was in the military. At 13 years old, Melissa started training in Judo and continued to study several martial arts for the next 30 years (Tae Kwon Do, Shotokan, Muay Thai, Kali, boxing).  She was involved with CrossFit for several years before injuring her shoulder.  It was then that she discovered kettlebell sport (GS).
She has been involved with GS for 3 years now and is a Certified Kettlebell Teacher 1 through the IKFF. Melissa is passionate about both competing in GS and and coaching GS athletes. When Melissa is not working at her day job in IT, she is a part-time personal trainer in the Northern suburbs.  Her certifications incude:
IKFF CKT 1
NASM Certified Personal Trainer
CrossFit Level 1 Trainer
CrossFit Striking Trainer
TRX Level 2 trainer
Battling Ropes Level 1 Instructor