Meet my friend and teammate, Christopher Doenlen, who is originally from Florida and currently based in Washington, D.C.
We met in March 2013 at an IKFF (International Kettlebell and Fitness Federation) Competition. He is one of the people who made my first competition less nerve-wracking — he checked my form, and since he knew that I wasn't competing until late morning, he gave me sage advice to take regular breaks from the competition space throughout the morning. He remains as one of my mentors today, as he helps me refine my snatch technique. At the end of this post, you'll see him snatch a 32 kg bell — he has beautiful technique, smooth as butter!
Want to see him lift kettlebells in person? Chris and I will be competing in New York City on September 7, so check us out if you are in the area! The AKA/IUKL (American Kettlebell Club/International Union of Kettlebell Lifting) Open Tournament and World Championship Qualifiers will be at Reebok Sports Club/NY.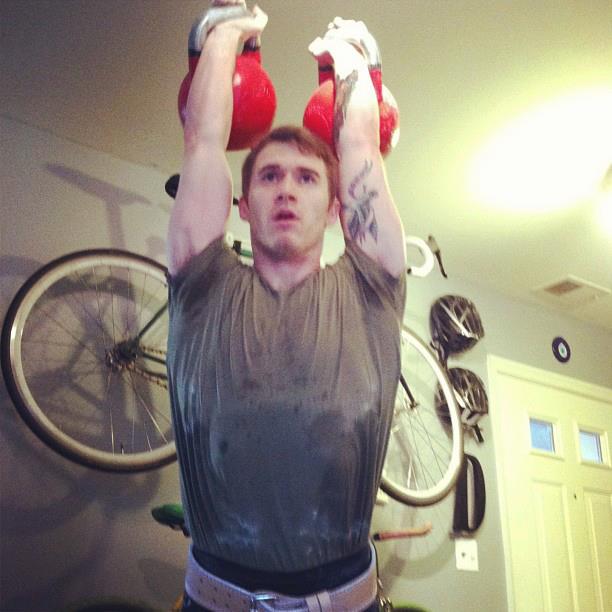 CHRIS DOENLEN
CMS (Candidate for Master of Sport) in Biathlon, 24kg and 32kg
Holds North American Absolute Record 24kg Biathlon – February 2013 in Fairfax, VA (Jerk 121, Snatch 220)
Coach: Ken Blackburn
1. How did you find out about GS/kettlebell sport?
I remember first seeing kettlebells in the student gym at the University of Florida sometime in 2006. No one knew what to do with them. Spiky-haired frat boys in sleeveless t-shirts tried to curl them or do awkward lateral raises. Eventually the gym set up a small TV by the kettlebells with a video on loop of some of the exercises you could do, and then people started trying swings and Turkish Get-ups.
In 2010, I bought two 16kg cast-iron kettlebells and consulted my wife's former kung-fu master, Edward Coughlin, for some drills. He had trained with Ken Blackburn and Steve Cotter way back. He also told me about kettlebell sport competitions — this mystical, Russian-dominated sport. I started to explore YouTube for footage. I learned how to snatch watching Anton Anasenko. It wasn't long before I attempted my first 10-minute biathlon sets with the 16kg's.
In August 2011 I took my CKT (Certified Kettlebell Teacher certification through IKFF) with Ken Blackburn in Hoboken, NJ. Ken really encouraged me to compete. I started training, creating weekly programs based off some of Rudnev's templates online and with guidance from Ken. A few months later at IKFF Nationals I earned CMS (Candidate for Master of Sport) in 24kg Biathlon (Jerk 88, Snatch 135). After that, I asked Ken to be my coach and it's been magic ever since.
2. Describe what it was like to step on the platform for the first time.
The first time I stepped on the platform was November 2011 at IKFF Nationals. I only knew about two people there (excluding my wife and two friends who came with me) – Sara Moore from Underground Athlete in Fairfax, VA and Donica Storino from Badass Training in Point Pleasant, NJ. I had trained a bit with Sara the month before and she really helped keep me relax. Honestly I think I was less nervous then than any other time I've competed since.
3. When did you start lifting kettlebells?
I started competing in November 2011.
4. What motivated you to become a girevik? Why do you lift?
In college I flirted with powerlifting which, due to poor diet and programming, was pretty tough on my body. Later I got really into cycling and would practice with the University of Florida team a few times a week. I've just always loved lifting weights and endurance training, and so kettlebell sport really is a perfect fit.
5. How many competitions have you participated in? What is the highest rank you've achieved thus far?
I've only lifted in five competitions. My best rank is CMS in both 24kg and 32kg biathlon. My best result with 24kg is 121 jerk and 220 snatch, and 50 jerk and 112 snatch with 32kg – both in the 75kg weight category.
6. What is your athletic background?
Like so many suburban-raised boys and girls I grew up playing soccer. And like so many Florida teenagers, high school was mostly surfing and skateboarding. I started lifting weights when I got to college, following mostly bodybuilder-style protocols, switching programs too frequently to make any real gains. I always trained hard, but I just never really knew what to do.
Eventually I befriended a powerlifter and started training with him. As I mentioned before, this was pretty rough on my body due to ego, poor diet and programming. A few years later I got really into cycling – we're talking spandex, shaved legs and awkward tan lines. Whatever I do, I tend to give it my all.
When my wife and I moved to Washington, D.C., I found a good group of people to ride with, but got pretty discouraged after the thousandth near-death experience with a Maryland or Virgina driver. They're seriously insane here. Also the roads here are some of the worst in the country. It just wasn't fun anymore.
I started lifting weights again in the safety of the indoors and soon fell in love with kettlebells.
7. What is your diet like?
Very clean and mostly paleo. Lots of veggies, meat and fish. Sweet potatoes, white rice, and bananas are my carbs of choice. I try to stay away from alcohol, especially 8-12 weeks out from competition. I mostly view food as another tool for performance or recovery.
But living in DC, there are loads of amazing restaurants and when your wife is a total foodie, you've got to make some exceptions every now and then.
I'm also not shy about trying new supplements and have a kitchen cupboard filled with a variety of pills and powders.
8. Can you share your favorite healthy recipe?
Peanut butter. In a jar. With a spoon.
9. Who is your GS hero or heroine?
I'm a huge Anasenko fan. I've always studied Sergey Merkulin and Alexander Khvostov, since we share similar body types. Also Johnny Benidze just kills it.
There really are so many incredible lifters that I get excited to watch – Ilya Tashlanov and Ivan Belyaev definitely come to mind.
10. What is life like outside of kettlebell sport? What are your hobbies? How do you balance these with training for the sport?
Family-wise, it's my wife, our dog, and me living in DC. My wife, Emily, runs a letterpress studio, Typecase Industries, and our 4 ½-year-old American bulldog mix, Henry, is probably the fittest dog in Southeast DC from all of my post-training runs. These two keep me pretty busy.
Work-wise, I've got a pretty regular 9-5 job as an accountant at an online publishing company in DC. It's a very relaxed work environment that affords me pretty flexible hours. I also teach kettlebells and do some personal training at the gym where I train – Atlas Fitness.
11. What is the most challenging aspect of being a girevik?
Trying to explain to others what it is I do.
12. What is the most rewarding aspect of being a girevik?
Setting a goal – whether in competition or training – and reaching it.
13. What is one of your greatest accomplishments in the sport?
I'd say my greatest GS accomplishment was achieving CMS in 24kg biathlon after only 2-3 months of sports-specific training, having written all of the programming myself. I just dove in head first. I learned so much about the sport and myself during that training cycle.
14. Can you share your favorite quote/motivational thought?
Kind of a cliché, but Bruce Lee's "As you think, so shall you become" has been a big one for me lately. Gotta get your head right!
15. What is one thing about you that most people would be surprised to know?
Usually my involvement in kettlebell sport is my "one surprising thing" – but in this situation I guess most people would be surprised that my day job is in accounting.
Also, I may have the power to summon Al Franken at will – although this hasn't been proven in a clinical setting.
16. Quick – if there is one person you would like to interview, who would it be? What question would you ask them?
One question I like to ask everyone: If you could have wings or a tail, which would it be and why?
17. Do you have a next goal? What keeps you going?
Right now I'm just rank-chasing MS (Master of Sport) in biathlon. My next scheduled competition is IUKL (International Union of Kettlebell Lifting) USA Nationals in New York this September. We'll see where that leads!
18. Any advice or message for the community of kettlebell sport lifters and coaches?
Take care of your forearms!
See Chris in action, snatching a 32kg for 5 minutes:
[youtube=https://www.youtube.com/watch?feature=player_embedded&v=bQ8dI2O8fbM]
***
In sport or other aspect of life, how do you set and achieve your own goals?
Pause for a moment and think about Bruce Lee's quote: "As you think, so shall you become."
If you could have wings or a tail, which would it be and why?
Leave a reply below!
Have a great week!
xoxo
Kettle Bea