Meet my friend Christina Danos, who is from Canada, and is my Long Cycle twin 🙂 We met at IKFF Worlds Competition in November 2013, where we tied for first place in the 54kg weight division. Both of us lifted a 16kg kettlebell 78 times in 10 minutes, earning us Rank 2 in Sporting Perfection category. She is also the founder of Kettlebells 4 Autism, a nonprofit organization dedicated to raising awareness about autism. I love that she is using kettlebells as a platform to help fund research and treatment of autism, and I hope that more people support this initiative. Learning more about her organization has also motivated me to try teaching kettlebells to my 15-year-old nephew Dave, who has autism, when I visit him in Manila in two weeks. I will be featuring Dave and Kettlebells 4 Autism in January.
Enjoy learning more about Christina!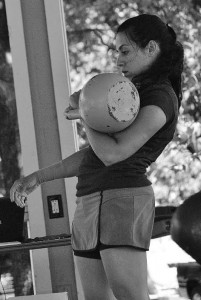 CHRISTINA DANOS
Competition Events: Long Cycle and Jerk
Coach: Jon Dunnill & Jason Dolby
1. How did you find out about GS/kettlebell sport?
I completed my Level 1 Kettlebell Trainer certification with Agatsu in March 2011. Through Shawn Mozen, I met Boris Tzerzic of East York Kettlebell Club, who was working with Shawn to organize a Kettlebell Competition for June, 2011.  I did a Google search of kettlebell sport and came across a popular video by Ice Chamber Kettlebell Girls- that did it, I wanted to compete. Boris gave me a few lessons and I competed two months later. I look back at the video of my first competition and cringe, but that's how I got started, so it's a nice reminder of how far I've come, and how far the others that competed that day have come. We have a great GS community in Toronto now, and it continues to grow.
2. Describe what it was like to step on the platform for the first time.
I had no idea what to expect having never seen a competition in person, and like I said, I barely trained for my first event.  It was definitely exhilarating though. Having never competed in an individual sport, I loved it.
3. When did you start lifting kettlebells? 
March 2011, and my first competition in June 2011.
4. What motivated you to become a girevik? Why do you lift?
Initially, I just enjoyed having a goal to train toward.  Recently though, I've come to appreciate and value the calm and focus I feel during my sets. I'm generally a pretty anxious person with a million thoughts running through my mind, and very focussed on my work as a senior therapist supporting individuals with autism- I like how clear and yet focused my thinking is when I train and compete in GS, and how "present" I feel.  It's something I'm working toward outside of training too.
5. What is your athletic background? 
I've only played team sports, mostly soccer, but not at a high level.
6. What is your diet like? 
Paleo for the most part. I was pretty strict for about a year and half but had a hard time keeping weight on so I'll eat dairy now, and grains on occasion.
7. Can you share your favorite healthy recipe?  
I like a good puttanesca sauce with zucchini noodles. http://paleopractices.wordpress.com/2012/11/25/puttanesca-with-zucchini-noodles/
8. Who is your GS hero or heroine? 
Honestly, I don't have one in particular. I'm inspired by many of my teammates and fellow kettlebellers in Toronto.  I was so proud of my teammates at Energia Athletic (Toronto), at our last event. Everyone has been making big gains, and there's Cynthia Roulston who is also training really hard and is so disciplined. I'm inspired by these people most. I do have to give credit though to Maya Garcia of Ice Chamber. When I first watched that Ice Chamber video I mentioned, I zoned in on her because she looked to be about the same height and weight as me, so I've looked to her video for tips.
9. What is life like outside of kettlebell sport? What are your hobbies? How do you balance these with training for the sport?
I spent about three months prior to the IKFF event in November 2012, training regularly, and working toward competing with 20kg.  Looking back, I'll take a different approach toward that goal again.  The training schedule was fine, but I put far too much pressure on myself and that took away from the joy of it. I was more worried about how it would feel to fail — something I didn't really notice as a consistent thought until later. The break I took when I was injured forced me to take some time away and rethink my approach. I am committed to and looking forward to working with 20kgs again, I'll just enjoy the experience more and take my time with it; that is the only way I know of right now, to balance my work, time with family and friends, and rest and recovery.
In terms of hobbies- I wish I had more hobbies!  It's not a hobby, but the work I'm doing with Kettlebells 4 Autism, is something else I'm committed to.
10. What is the most challenging aspect of being a girevik?
Personally, the jump from 16kgs to 20kgs has been a big challenge!  In general, the politics between organizations can be pretty annoying but I've decided to ignore it.
11. What is the most rewarding aspect of being a girevik?
I can't name one. I enjoy the camaraderie with my teammates and with other lifters, achieving personal goals, and those times of calm and focus.
12. What is one of your greatest accomplishments in the sport? In life?
My most recent great accomplishment has been creating Kettlebells 4 Autism.  I'm so proud of how it has grown and evolved.  It has been  a challenging experience, but I'm learning as much from the setbacks as I am from the accomplishments.  I have a detailed plan for KB4A and am ticking off one task after another, working toward making it a registered charity, as opposed to fundraising for other charities, and the ultimate goal of extending the Kettlebells Swings Event into schools.
13. Can you share your favorite quote/motivational thought?
"There is no passion to be found playing small- in settling for a life that is less than the one you are capable of living," Nelson Mandela. I'm also very motivated by Seth Godin's books.
14. What is one thing about you that most people would be surprised to know?
I think most people in my life know about my oddball behavior, likes and dislikes…nothing really comes to mind…I do re-read chapters of any of the Harry Potter books when I can't sleep. I've read each book three times, some more.
15. Quick – if there is one person you would like to interview, who would it be? What question would you ask them?
I should probably choose someone in the kettlebell community but the truth is it would be the late Adam Yauch of the Beastie Boys. I'm a huge fan of the Beastie Boys, and would want to talk about their music and humanitarian work.
16. Do you have a next goal? What keeps you going?
My immediate goal is to earn CMS in long-cycle  with 16kg by the end of 2014, and raise a minimum of $10,000 for the Feb 2014 KB4A Kettlebells Swings Event- that keeps me going.
17. Any advice or message for the community of kettlebell sport lifters and coaches?

Check out 
Kettlebells 4 Autism
 and our fundraising t-shirt, with all profits in support of research, treatment and raising awareness about autism.  
www.kettlebells4autism.com
Check out Christina's performance in the Long Cycle Event this past November:
[youtube=http://www.youtube.com/watch?v=EvHzh2yMsDc&feature=youtu.be]
Have a great week!
xoxo
Kettle Bea