Meet Christian Goldberg, a phenomenal lifter and coach from Boulder, Colorado.
About a year ago I read a couple of Christian's blog posts, and saw some of her IKFF competition sets on youtube. I immediately became a fan of her writing and her lifting technique — she is so tiny but a powerhouse! I was excited to meet her at Orange Kettlebell Club's meet this past February, and saw her in action. This past weekend at the 2014 IKFF Chicago Kettlebell Classic, she achieved her Master of Sport in Biathlon and Best Overall Lifter 20kg. And I had the honor of lifting alongside her on the same flight! As you will see in this interview, Christian is the epitome of mastery, and is infinitely inspiring as a lifter, coach and person. Enjoy!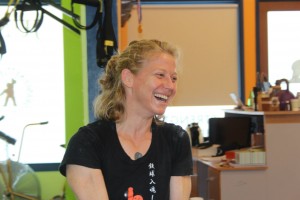 CHRISTIAN GOLDBERG
Shiatsu Practitioner
Kettlebell Sport and Fitness Teacher
Girevoy Sport Coach
Event/s: LongCycle, Jerk, Snatch Only, Biathlon (in order of preference)
Coach: Sergey Rudnev
1. How did you find out about GS/kettlebell sport?
At my first kettlebell instructor certification (2004, RKC) Steve Cotter gave a short introduction to GS. He had been training with Valery Fedorenko and made mention of the time element, plus slightly different equipment.
GS remained a mystery beyond that until I needed to re-certify as a KB instructor in 2009. I jumped into an IKFF Level 1 training, met Ken Blackburn and was completely hooked.
2. Describe what it was like to step on the platform for the first time.
Hyper-adrenalized. My first official GS event was IKFF Northwest Kettlebell Championship, 2011, in Seattle, WA. This is where I figured out that with only one event (LongCycle) I would most likely be lifting in a later flight, which gave me plenty of time to get extremely nervous.
3. When did you start lifting kettlebells?
Lifting for fitness in 2003. Lifting for GS in 2010.
4. What motivated you to become a girevik? Why do you lift?
It suits me as an athlete better than any sport. I lift for personal achievement, to demonstrate the possibilities for women in the lighter weight classes, and because I want to do my part to spread awareness as GS becomes more known worldwide.
5. What is your athletic background?
My sport in high school was cross-country running. I learned rock climbing, yoga, and general weight lifting in college. I began to learn about the martial arts after college in 1996.
I'm a naturally physical person and wanted my training to be for both me and for others. In my study of touch-oriented healing methods (beginning in 1997) it became clear that 1) I needed to stop violent practices and 2) my greatest effect on others would be by transferring my experience. I switched to the defensive art of Ki-Aikido in 1999 and continued to study Ashtanga Yoga.
Kettlebell fitness revolutionized my understanding of functional strength and flexibility, but did not address the need to really improve myself in a holistic sense. Once I started training with Coach Sergey Rudnev, 2012, it all came back full-circle. Especially since he re-introduced running.
6. What is your nutrition like?
It's about ingredients that feel good in my body 45 minutes after eating them. So quite a few ingredients are excluded such as gluten, nightshade vegetables/fruits, highly refined, preserved and processed foods. Alcohol does not serve me, either.
Meat, fish, poultry and eggs are part of my diet, a few cheeses and greek yogurt. Root vegetables, especially beets and yams, and grains like brown rice and amaranth. Goji berries, figs and green tea are staples in my life.
7. Can you share your favorite healthy recipe?
Because my focus is on the ingredients, I don't have very many recipes. But one thing that works well is to cook up celery, spinach, carrots and broccoli in a skillet with dulse, sage and basil. I make a big batch of this and add it to meals with meat and rice pasta throughout the week.
8. Who is your GS hero or heroine?
So many great examples in GS!
As a coach it has to be Sergey Rudnev, who exemplifies a master-level athlete who is committed to both world record holder and beginner GS lifters. He is a life-long learner and amazing role model.
As an all-around lifter it's Johny Benidze. He is good at every lift and continues to improve! I haven't seen him in person, but study his lifting technique as the closest to what might work for my own physique.
9. What is life like outside of kettlebell sport? What are your hobbies? How do you balance these with training for the sport?
Nature lover. I live in a city near in the foothills and love to walk and hike the trails in my free time. When there is space in my training I continue the practice of Ki-Aikido.
My profession as a Shiatsu practitioner keeps me focused on softness, health and human connection. This is the true balance for my inner athlete. The human psyche is my continual fascination. I study the symbols, archetypes, healing journey and evolution of humanity.
10. What is the most challenging aspect of being a lifter?
Training in a gym where I'm the only one doing it! I do not currently have a GS community at they gym, so motivating and driving through hard training days can be major victories in themselves.
11. What is the most rewarding aspect of being a lifter?
Achieving the minor goals. If I complete a competition without getting blisters, or see a technique improvement staying through a hard set, I know that this practice brought me closer to self-mastery.
12. What is one of your greatest accomplishments in the sport? In life?
In GS, 1) hearing people say, "that was inspiring/you inspired me" after watching me lift, 2) seeing friends achieve their own goals.
In life it's having a part in others' self-empowerment. Learning to share experiences openly has been an act of faith that I am proud of.
13. Can you share your favorite quote/motivational thought?
As an individual, it is my task to do good in the world. If I cannot do good, then I must help others do good. If I cannot help others do good, then I must stand by until the next opportunity arrives.
14. What is one thing about you that most people would be surprised to know?
No one else in my family is passionate about being an athlete.
15. Quick – if there is one person you would like to interview, who would it be? What question would you ask them?
Angelina Jolie: "Do you have any fake parts?"
16. Do you have a next goal? What keeps you going?
Next goal is to learn all the lifts with 24kg. First LongCycle, then Jerk, then Snatch Only, then Biathlon. The fear and fascination of Snatching this weight keeps me going.
17. Any advice or message for the community of kettlebell sport lifters and coaches?
For athletes, keep a sense of humor. Don't publish video of any sets done with no enjoyment or with a feeling of obligation. Remember the good training days when things get heavy.
For coaches, pay attention to the subtle cues from your athletes. Research solutions for them and actively seek input about their training experience.
See Christian in action. This is her third attempt at Master of Sport ranking with 20kg LC and finally, victory!
[https://www.youtube.com/watch?v=T1dmDuWXNVE]
Have a great week!
*Photos by Estella Hom and NazoFoto