GS Trivia: Guess how many push presses with a 12kg Cate Imes did in less than two hours one New Year's Day (non-stop and hungover)? Read on to find out.
This August, please join us in honoring and celebrating Cate Imes, first American Female Master of Sport, at #WIKSummit2016.
Aside from being our honored guest, she will be joining Ingrid Marcum in a panel discussion about the history of Kettlebell Sport and Olympic Weightlifting, and how each sport has changed for women over the years.
In the meantime, enjoy this interview about one of our great pioneers in kettlebell sport!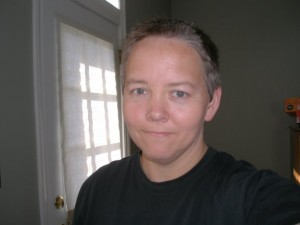 CATE IMES, USA
First American Female Master of Sport
How did you find out about Girevoy Sport (GS)/kettlebell sport?
CI: I started reading about kettlebells in 2002 in Muscle Media 2K (Magazine).  Started doing the swing workouts with dumbbells because I trained at a gym.  I did this to improve my endurance for grappling/martial arts.  So I would do timed sets of swings, snatches ,and clean and jerks (switching hands) with dumbbells.  This was a different stimulus and I saw my conditioning improve and my staying power on the mat was much better.  After nearly a year of doing the training with dumbbells, I finally broke down and ordered a 12kg and 16kg.   After reading the Dragondoor forum, I discovered there was actually a competitive event called GS.   There was a competition in January 2004 in Chicago.  Since I could drive up for the day, I decided to go for it.
Describe what it was like to step on the platform for the first time.
CI: I was a little nervous.  But, the first competition was pretty laidback and I was able to put some online names to faces.   It was held in a fitness facility and we lifted in the racquetball court.    Afterwards, we had Chicago pizza (I think Gino's) and beer.  It doesn't get much better than that.
Describe the moment when you became the first American female to achieve Master of Sport. How did it feel?
CI: At the time, I felt relief – I mean, I had been training and competing for 3 years by that time and was the most consistent female competitor in the States.  I really wanted to support Valery Fedorenko's efforts in growing the sport and his courses and felt pressure to do well  (self-induced).  His programming was integral to helping me hit the numbers and I surpassed them in May 2006 at a meet in San Diego.  I hit 200 reps, but it was with non-competition KB (a big handle – 35mm isn't anything lol)    So, it took some adjustment with the competitions bells.  By the time the opportunity to rank came along in 2007 at a Cincinnati event, I was ready to knock it out.
What was life like outside of kettlebell sport? How do you balance these with training for the sport?
CI: Well, I started the sport at 32 and I'm 44 now.    Honestly, my best training and best performance came when there was less stress at work in my mid to late 30s. Over the years, I broadened my leadership role at work. With that, comes a lot more responsibility. This requires a significant energy.  Last year, I took a promotion and for the first time officially had direct reports (45-50 people including contractors).  Now, I have a team of people who depend on me for support, career guidance and driving strategy.  My days at work are stress-filled and long.   I enjoy the challenge, but I recognized that I can't do battle at work and battle at a high level on the platform.  I am at a point in my life where my job/career is the priority.  That doesn't mean I won't compete.  It simply means I have to be realistic about my training.  I need my training to positively impact my health and stress; not increase it.
What was the most challenging aspect of being a lifter?
CI: Probably the endurance and skill required.  I was strong, and I found out that you can only get so far with maximal strength.  Other athletic qualities are just as important if not more so.  I mean, I could press 32kg 4-5 times per hand which helped me put up "Ok" numbers early, but I had to really focus on technique.   I worked really hard to learn how to Jerk and I gave up all pressing to do it because my strength was working against my improvement at the time.
What was the most rewarding aspect of being a lifter?
CI: Well, probably the feeling that I could suffer through a longer than 10 min set. Just the feeling that you can survive something that at one point you would have deemed impossible.  I did 2009 Push Presses with a 12kg in less than 2 hours on New Year's Day (non-stop and hungover haha).  So, that kind of attempt takes confidence and that confidence was built in training.
What is one of your greatest accomplishments in the sport? In life?
CI: My greatest accomplishment or the one that make me most proud:  I am pretty sure I'm the first female to coach male students and coach them to MS (Antoni Stojak).   I really appreciate the athletes that entrusted me with coaching them in the early days.  I wasn't an expert, and I think that the programming was ok, but I think because I had to work hard to learn things like the Jerk, I developed good cues and a good eye for technique issues.
I also understood the value in not over-coaching.  I'm not the best coach, but I think I was a good coach for newer lifters.
In life?  Well, I think that my biggest accomplishment is the friendships I've made at work and in sports (GS, Rugby, Martial Arts, Flag Football).  I've got friends across the USA and even world that I wouldn't trade for anything.
Can you share your favorite quote/motivational thought?
CI: Mike Mahler pointed this one out of my favorite movies (Gattaca): "I never saved anything for the swim back."
What is one thing about you that most people would be surprised to know?
CI: I'm from Oklahoma?   All kidding aside, I don't think there is much.  The main thing would be that even 20 years ago when I was starting my career I never would have imagined I would be traveling to places like Latvia, Croatia, Finland, Singapore, Vietnam, or the Philippines.   Prior to the sport, I really didn't understand the value or the importance of travel and expanding your horizons.
Quick – if there is one person you would like to interview, who would it be? What question would you ask them?  
CI: Cormac McCarthy. Not sure I would have a definitive question.  But, I would like to discuss with him how he writes 2 very dark novels (The Road and Blood Meridian).  One is based on human goodness and the other is based on human evil.   It would be fascinating  to converse on those 2 books.
Any advice or message for the community of kettlebell sport lifters and coaches?
CI: The consistent advice of quality over quantity.   Be patient with technique development.   The best coaching , cues, and programming can't replace time under the bells.
Meet and learn from Cate Imes at the inaugural Women's International Kettlebell Sport Summit. www.kettlebellsportsummit.com