Meet Amanda Wegner, the youngest 24kg kettlebell sport competitor in the USA. I first met her at the 2013 AKA/IUKL Nationals in New York City, where she competed in the snatch event and won a spot in Team USA that went to the World Championships in Tyumen, Russia (see a video of her competition set at the end of this post). The next year, I witnessed first-hand her linguistic talent; she was one of the translators when I trained with Russian coaches at Orange Kettlebell Club's sport camp. Later I found out how inspiring her story is – she  has transformed herself physically through sheer dedication to this sport. Just look at her pre-kettle picture: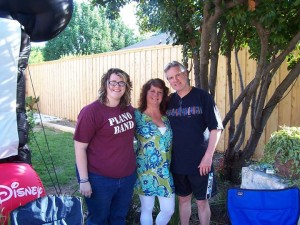 Now she is a fit and strong kettlebell sport athlete and coach! She currently lives in Plano, Texas, but will be moving to Chelyabinsk, Russia soon. There, she will be pursuing her Master's degree in Russian as a Foreign Language, and serving as Manager of International Relations for the International Union of Kettlebell Lifting (IUKL). You can read more about this next chapter of her life in her blog. Congratulations, Amanda, on your well-deserved success, and thank you for all your work in growing the sport! You have been and will continue to be an inspiration to many.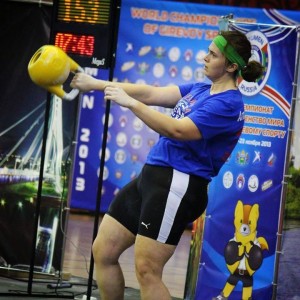 AMANDA WEGNER
Assistant Director of the North Texas Kettlebell Club at Full Throttle Athletics
Member of first Team USA in 2013
Youngest 24kg GS Competitor in the USA
Achieved CMS by the IUKL table in 2014 at 22 years old
Event/s: Snatch
Coach:  Kseniya Dedyukhina, Aleksander Khvostov
1. How did you find out about GS/kettlebell sport?
My first step into GS was in the spring of 2011, when John Buckley and Jason Dolby of the OKC came to Full Throttle Athletics to do a workshop. I had heard about it before from BJ Bliffert (owner of Full Throttle Athletics) but that was my first hands-on experience with it.
2. Describe what it was like to step on the platform for the first time.
Honestly it was all a blur. I remember very little, it's in bits and pieces. I think the nerves were just so high that my brain wasn't able to record the memory!! I remember BJ behind me coaching and counting, people I had just met for the first time cheering me on, and pushing myself as hard as I could. That's about it!
3. When did you start lifting kettlebells?
I started very shortly after the OKC workshop, if I remember correctly. So spring 2011, maybe early summer. BJ Bliffert was my first coach, I trained long cycle at that point in time.
4. What motivated you to become a girevik? Why do you lift?
For whatever reason I was able to get a grasp on the technique in relatively little time. Obviously, there's a ton of work left, but I really enjoyed that it was a puzzle of sorts to figure out how to make small adjustments while a weight is flying up at your head or down to your feet. I lift because I love it. I love meeting new lifters, I love exchanging tips and advice with people all over the world. I love the feeling after a great set on the platform. I love that it's a never-ending competition with yourself to be the best you can be.
5. What is your athletic background?
Zip zero nilch. I think that's what really pulled me in to the sport, was that I was able to do okay at it after a little practice, and I didn't expect that. At this point, for me, it's all about proving to myself that I can do these things, after never believing I could. If time travel existed, I'd want to travel back in time and have my former self not recognize me, if that makes sense.
6. What is your nutrition like?
I am a creature of habit, I tend to eat the same meals over and over. Lunch and dinner usually chicken, veggies, buckwheat. Breakfast is typically two eggs, veggies, buckwheat. When I start to stray from this, I start to get into trouble. I can be very Dr. Jekyll and Mr. Hyde – either I'm eating great or I'm eating really badly. I try to be Dr. Jekyll most of the time, he snatches better.
7. Can you share your favorite healthy recipe?
Simple, healthy, filling, cheap – buckwheat with sautéed onions and mushrooms.  Bring 2 cups of water to a boil, add 1 cup of buckwheat and simmer for around 20 minutes. Finely dice onions and mushrooms and sautee. When the buckwheat is done (shouldn't be much water left, the buckwheat puffs up), add it to the pan and mix it all together. Salt and pepper is all you need. Delicious.
8. Who is your GS hero or heroine?
I respect and admire Kseniya Dedyukhina a lot. Her psyche on the platform is like steel, her results are insane, but off the platform she's very kind and humble. On paper, she has every right to talk down to people and put on a big ego, but doesn't. She's very positive, upbeat, and has helped me through a lot!
9. What is life like outside of kettlebell sport? What are your hobbies? How do you balance these with training for the sport?
There's life outside? In all seriousness, I'm very lucky and I'm in a place in my life right now where I am able to focus very well on training and GS. I don't know why but I've become, as John Buckley calls me, a "GS Robot". I watch GS videos constantly, I chat with other lifters as much as I can, etc. My day is train, work at the gym, sleep, typically. I could get a 9-5 and have more money, I guess, but I wouldn't be able to train or travel, and it's really at this exact point in time not worth it to me. I'm taking some steps this year to further immerse myself in the sport.
10. What is the most challenging aspect of being a lifter?
The fact that tiny errors in technique can totally destroy a set. And sometimes trying to fix these errors makes it even worse. It's a very frustrating push and pull, but eventually I know that this will level out with more experience.
11. What is the most rewarding aspect of being a lifter?
I think just knowing that I can do the things I am programmed to do. There's no way I could have done these things 4 years ago, and I try very hard to remind myself of that when I have a bad set or bad competition. What is a bad set now would have been totally impossible before.
12. What is one of your greatest accomplishments in the sport? In life?
97 reps with the 24kg in Chelyabinsk, Russia has been the highlight so far. My goal for that comp was 80, and I didn't even think I could hit that, so I was really happy to achieve almost 100. In life, if I HAVE to pick something non-kettlebell…. I suppose graduating Magna Cum Laude from the University of North Texas. 😉
13. Can you share your favorite quote/motivational thought?
Sergey Mishin began in a similar place as me, physically, and became the best in the sport for a long time. Sergey Rudnev began lifting when he was 22, and became world champion several times over.
14. What is one thing about you that most people would be surprised to know?
Honestly I'm pretty out in the open, I don't really have any weird talents or hobbies or anything. Maybe they would be surprised to hear that I played the trumpet for 8 years and my first year of college was as a music major.
15. Quick – if there is one person you would like to interview, who would it be? What question would you ask them?
That's a hard one!! I don't think I can pick just one, but I'd love to get to know more about the great coaches of Russia who don't have the luxury of the 'superstar effect' – the ones whose names we don't all know outside of Russia. I'd just ask them to tell me about themselves, their history, their best students, etc. We know the superstars, I'd like to know more about the 'behind the scenes' guys. Vladimir Gomonov, Mikhail Trofimov, Aleksey Azermachov… There are several!
16. Do you have a next goal? What keeps you going?
100 reps with the 24kg. Then MS. I really just like pushing the boundaries that I had set for myself long ago. I also want to know that people are proud of me. Maybe some wouldn't admit that, but I think deep down we're all happy when someone else is proud of us. I am not afraid to admit that I need some external recognition.
17. Any advice or message for the community of kettlebell sport lifters and coaches?
I really, really, really hope that we can get over our personal differences soon and just compete together at the World Championships under one flag. I don't think that the best of the best that our country has were truly represented last year. Having our best out there will make the world stand up and take us seriously, and it will certainly bring more attention to the sport. There's never going to be a time where we all get along perfectly, but I think USA kettlebell sport is the sum of many different organizations, and having one or the other missing for whatever reason is a shame.
Watch Amanda in action!
https://www.youtube.com/watch?v=zlSOqSGeNrE
Have a great week!
xoxo
Bea